Xizhazi village
Xizhazi village has 6 group (Group in Chinese is called Dui 队):
Group 1 (1队): Nangou cun (南沟村)
Group 2 (2队): Nanjili cun【南吉利村】
Group 3 (3队): Qianzhazi cun【前栅子村】
Group 4 (4队): Houzhazi cun【后栅子村】
Group 5 (5队): Jiushuikeng cun【旧水坑村】
Group 6 (6队): Duishi cun【对石村】
The most dangerous parts are the Upward flying eagle (鹰飞倒仰) and heaven stairs(天梯)
Zhengbeilou (正北楼) starts from the east side and finish at 9 eyes tower (九眼楼) it is about 9kms long.
Zhengbeilou tower 【正北楼】(N 40°27.289',E 116°32.159',alt 975m)
Jiankou【箭扣】(N 40°27.333',E 116°31.476',alt 694m)
Heaven Stair 【天梯】(N 40°27.339',E 116°30.100',alt 912m)
Upward flying eagle 【鹰飞倒仰】(N 40°27.385',E 116°29.928',alt 1013m)
Beijing Knot 【北京结】(N 40°27.772',E 116°29.669',alt 985m)
Nine-eye tower 【九眼楼】(N 40°28.914',E 116°30.126',alt 1194m)
This wild section is good for people who like adventure and are very fit to visit. It is a great place for photographers and people wand escape the crowd in Beijing. Some of the places are super hard to hike.
The famous hike route is called Jiankou to Mutianyu. If you start from Beijing Knot (北京结)to Mutianyu (慕田峪), it is over 17kms hike, and with the mountains, it equals a 30kms walk. If you really plan to do a tough hike, you should know this before.
The most classic hiking route is a 4 hours hike from zhengbeilou (正北楼) to Mutianyu Great Wall (慕田峪). For this hike, you can enjoy the wild section and also enjoy the rebuilt Mutianyu Great Wall. The hike is doable for most people and can finish in 1 day which is great for people who have limited time.
Accommodation: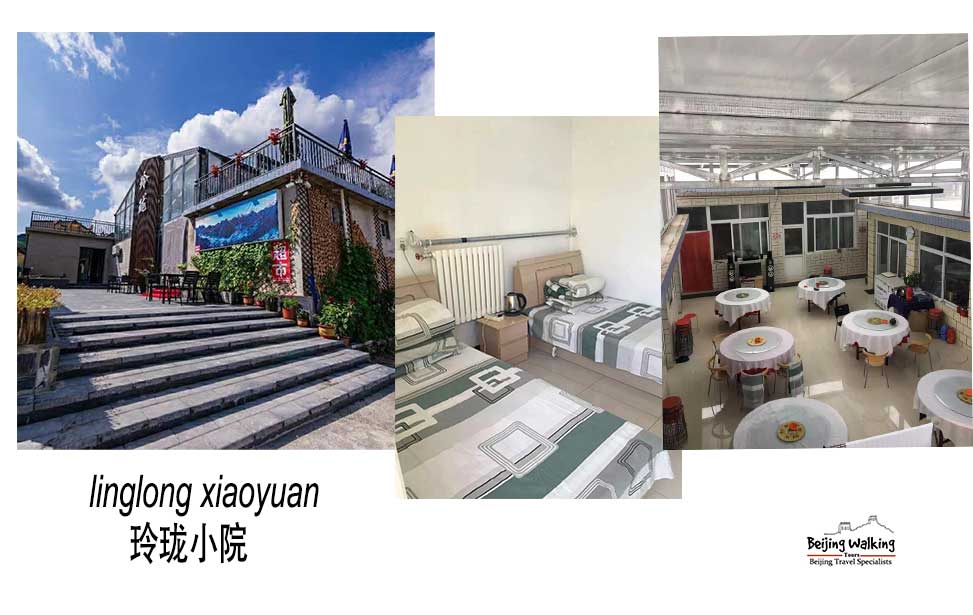 If you like to stay for 1 night in the village, you can choose the Linglongxiaoyuan (玲珑小院).
This is like a family hotel, the host is very friendly and helpful, and cooks very good food, they just finish the decoration in 2019. The price is around 200 RMB to 300 RMB. It is a bit more expensive than some other little hotels, but it is much cleaner.
The contact number: is Miss Lu 13716103861 (Wechat) She doesn't speak English, so it is better to let your Chinese friend help you book it for you. If you mention Leo's recommendation, you will get a good discount.
If you really like to do the Jiankou hike, please read these blogs:
How to hike from Jiankou to Mutianyu Great Wall on your own?