2019-06-22&nbsp&nbsp Leo Kui&nbsp&nbsp &nbsp&nbsp
0
Visit the Great Wall is a "bucket list". Beijing is the most popular tourist city in China. And visiting the Great Wall of China is a MUST do when you are here. But there are so many options and a lot of sections you can go to visit, such as Badaling, Juyonguan, Mutianyu, Jinshanling, Simatai, and Jiankou… If you only have 1 day and only choose 1 place to go, which is the best part of the Great Wall you should go to visit?
First of all, if you only concern about the view and the travel feeling, you can stop here and just choose Jinshanling Great Wall.
For the last 15 years, I have taken so many people to Jinshanling, it wins by the view, the quiet, and the flexibility of visiting time.
Don't argue, check the photos and videos online. The other sections even use the photos from Jinshanling for their AD.
You can schedule a sunrise or sunset tour. This section opens early and you can stay late.
As it is 150kms away from Beijing which is much further than other sections, so always fewer visitors. Most local Chinese visitors only take trains and buses to Badaling.
But there are 2 cons you should know before your decision:
2.5 hours drive from downtown Beijing. Even if it does not belong to Beijing, you can still visit during your layover tour.
The public transfer is not well. (There is still no direct bus until January 2023, I will upload it as soon as I know the update, you can also contact me for more info.)
There are different situations and there are some suggestions you can concern:
Layover or limited time (half day trip)

With kids or Seniors, want a leisure trip 

Choose a hike to see wild and rebuilt 

Photographers friendly

The most beautiful wild Great Wall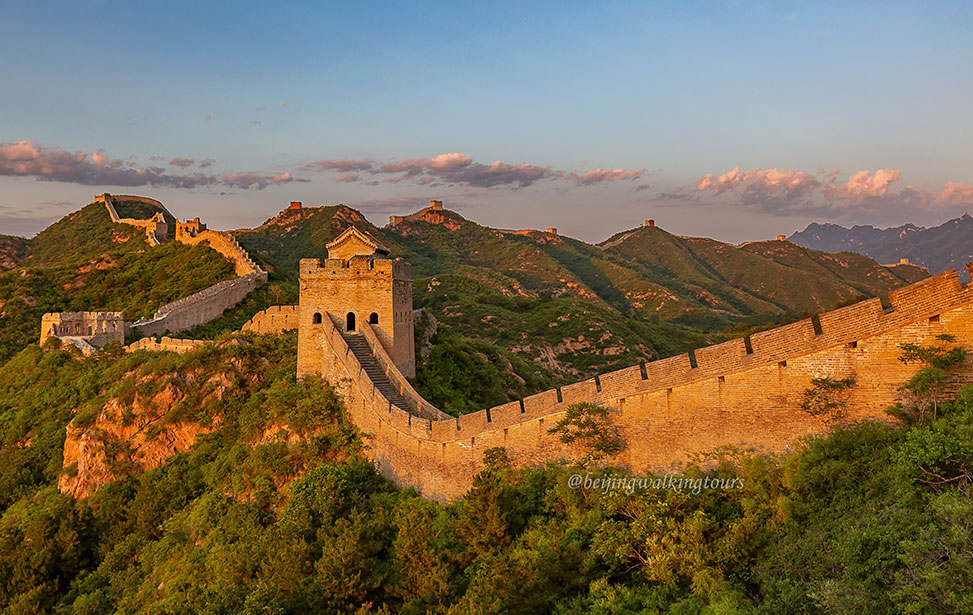 #1 Layover or limited time (half day trip)
The closest Great Wall to Beijing city is not Mutianyu or Badaling
If you have time-limited, the closest Great Wall to Beijing is Juyongguan Great Wall. It is only 60 km away from Beijing. Normally you can get there in 1 hour by car. The car can drive directly down the wall and walk for 2 minutes to get to the Great Wall. So if you have very limited time, the nearest wall you can get from Beijing city is Juyongguan Great Wall, and you can make the trip within 4 hours.
Mutianyu and Badaling are both not far away from the city, but Mutianyu is less busy than Badaling. I would like to recommend you visit Mutianyu if you have more time.
If you are on a layover trip and have very limited time, the nearest Great Wall from Beijing airport is Mutianyu Great Wall. It is only 55kms away from the airport, as the road is not all highway, so you need about 1 hour 20 minutes drive to get there. Plus get the visa, queue for bags, take the shuttle bus/ cable car, and spend 30 minutes walking on the wall, you need a minimum of 6 hours to make the trip.
So if you have limited time, Mutianyu is the best choice.
How to get to the Great Wall from Beijing airport?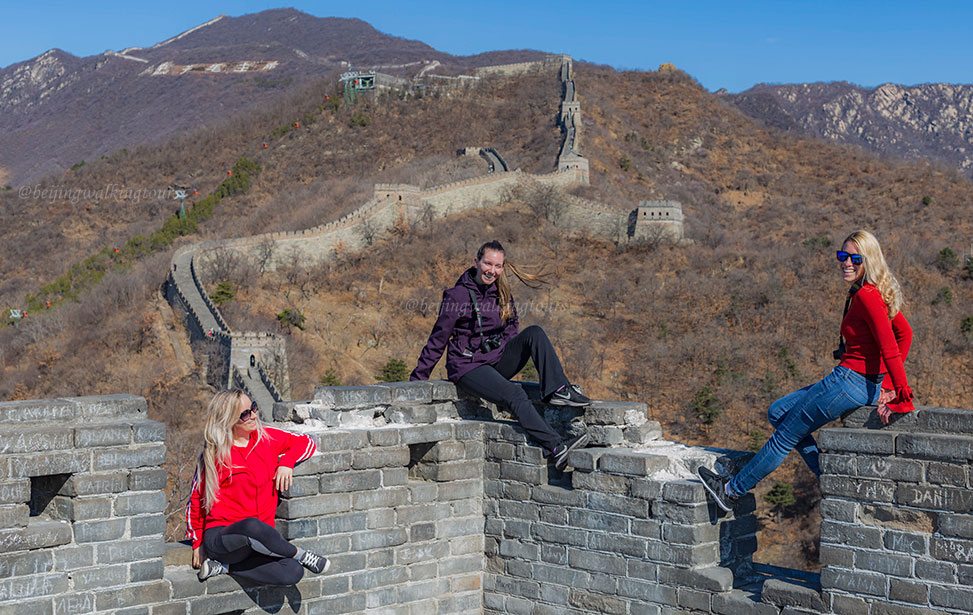 #2 With kids or Seniors who want a leisure trip 
If you travel with little kids or Seniors, despite the view having a cable car is very important. There are 4 sections of the Great Wall with cable cars: Badaling, Mutianyu, Simatai, and Jinshanling. But it is still a distance from the entrance to the cable car station.
Mutianyu is not good for people who are not good at walking. After the shuttle bus of Mutianyu, you need to take a lot of steps to get to the cable car station, it is SUPER difficult for some people such as someone who may need a wheelchair.
Simatai is also hard to use the cable car for people who are not fit, as after the cable car it is still a long way to the Great Wall.
I suggest you choose Jinshanling and the way to the cable car is almost flat, so you can either walk or contact the tourist center to drive you to the Cable car. You can get a great view only 2 minute's walk after the cable car.
But if you are travelling with kids, they must love something exciting, the toboggan from Mutianyu is always a highlight to visit the wall.
#3 Choose a hike to see the wild and rebuilt
There are many hikes you can choose to hike the Great Wall, but there is 2 most famous hike you can choose from:
A. Jiankou to Mutianyu
B. Jinshanling to Simatai west
I personally prefer the view at Jiankou, but it is more dangerous and the government always finds a reason to block the road. For now, the way to go to Mutianyu from Jiankou is blocked, so you need a detour to get through. It is not always doable, you'd better have a guide.
Jinshanling to Simatai is classic and beautiful, it is a 7 km hike route from the main gate to the east gate of Jinshanling which is also called Simatai west. (The way from Jinshanling to the real Simatai is not open, so you have to go down from the east gate of Jinshanling.)
I have a blog to compare with these 2 hikes: Jiankou to Mutianyu or Jinshanling to Simatai west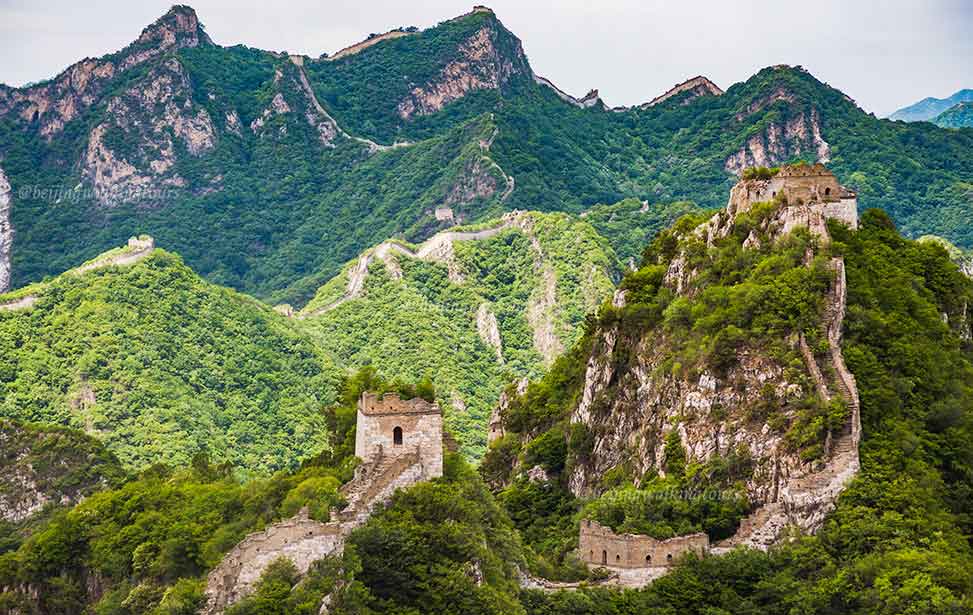 #4 The most beautiful wild Great Wall
There are only 3 sections you may feel hard to make a decision about. Jiankou, Huanghuacheng, and Gubeikou.
Huanghuacheng is a section close to Beijing and it is good for almost all fitness levels, you can make the hike very flexible. So if you travel with family or don't like tough walks it is good to go there.
Gubeikou Great Wall is far away from Beijing. But it is BETTER preserved than other wild sections. You can feel more history of the Wall without a tough walk.
Jiankou is the most challenging one, it is hard to go to and a bit dangerous. But the view is the best. Our government has a lot of control to stop people from visiting. I will update the information once I got it on my blog: How to hike from Jiankou to Mutianyu on your own?