Which part of the Great Wall is the best to visit? Of course, you can get many answers. Badaling is most famous among Chinese people; Jiankou is wild; Jinshanling is great for photos. If you want a comfortable and pleasant experience, you'd better choose Mutianyu!
To Tour or Not to Tour
A lot of travel bloggers will tell you that they never take tours, as though its somehow beneath them to travel in such a 'touristy' way. Stuff that. Of course, the tours, as well as the tour guide service very often give a more enhanced experience. However, that's not always the case and if you're able to go it alone (and save some dollars in the process), why not.
In the case of visiting the Mutianyu Great Wall, I'd say take a tour is not a MUST. With my instructions below on how to get to the wall, get the tickets and get around the Wall is all covered. Now, let's get down to the details of how to visit the Mutianyu Great Wall – there's quite a lot of information in here but as you'll come to realize, getting to see Great Wall isn't quite as simple as turn up, buy the ticket, take the photo. Stick with me. I'll try to make it as painless as possible.
The location of  Mutianyu Great Wall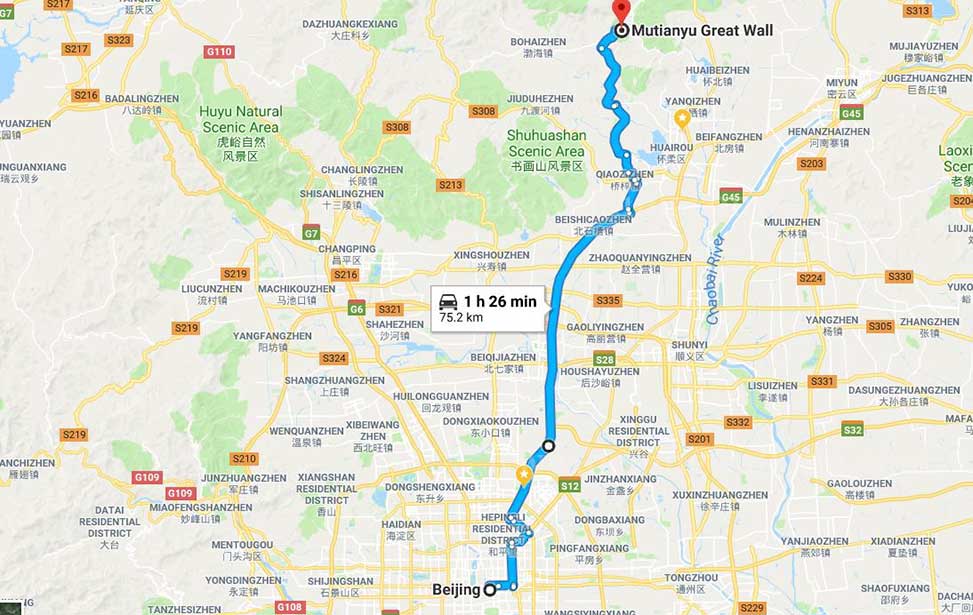 Mutianyu Great Wall is in Huairou Country, 75 km (46 miles) north of central Beijing, about 1½–2 hours' drive.
This section of wall connects the Jiankou Great Wall section in the east and the Baima Pass section in the west.
Read More: History of Mutianyu Great Wall.
How to get to Mutianyu Great Wall?
You can either take a taxi or choose the public bus to go.
Bus 916 express to Mutianyu is very easy takes about 2 hours.
Take the subway to Dongzhi station– Take 916 express to Huairoubeidajie–transfer H23 to Mutianyu.
For more details, please check this post:
Mutianyu Great Wall Self-guide private Transfer Service lower to $25 per person
How to get to Mutianyu Great Wall from Beijing Airport?
Mutianyu Great Wall is about 60 km away from Beijing International airport. There is no direct bus to get there. A taxi to Mutianyu is roughly cost you 300RMB. You can rent a car for the round way trip.
Taking the bus to Mutianyu from the airport:
1.take the airport express to Dongzhimen
2. take 916express to Huairou Beidajie
3. Take H23 to Mutianyu Great Wall
It is better to departure earlier as it is getting very busy in the holidays or the nice weekend. Such as the Summer Holiday (July and August), Chinese national day, Middle Autumn day, etc… I suggest you start at 6:30 am if later you will wait super long queue for this visit.
Visit the Mutianyu Great Wall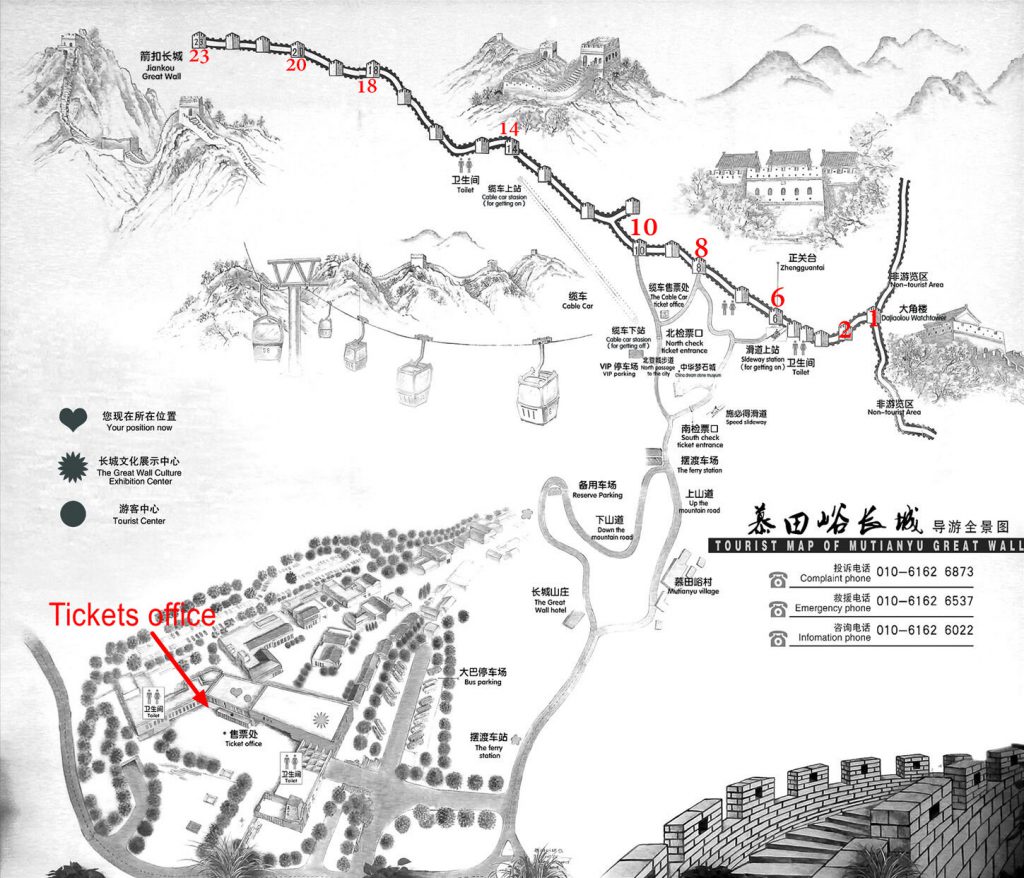 Buy the tickets from the tickets office, make sure you also get to round way shuttle bus tickets and the entrance tickets. The shuttle bus takes you to the entrance and saves you 3kms of walking. You come here for the wall, so it is better to take the shuttle bus and save the time.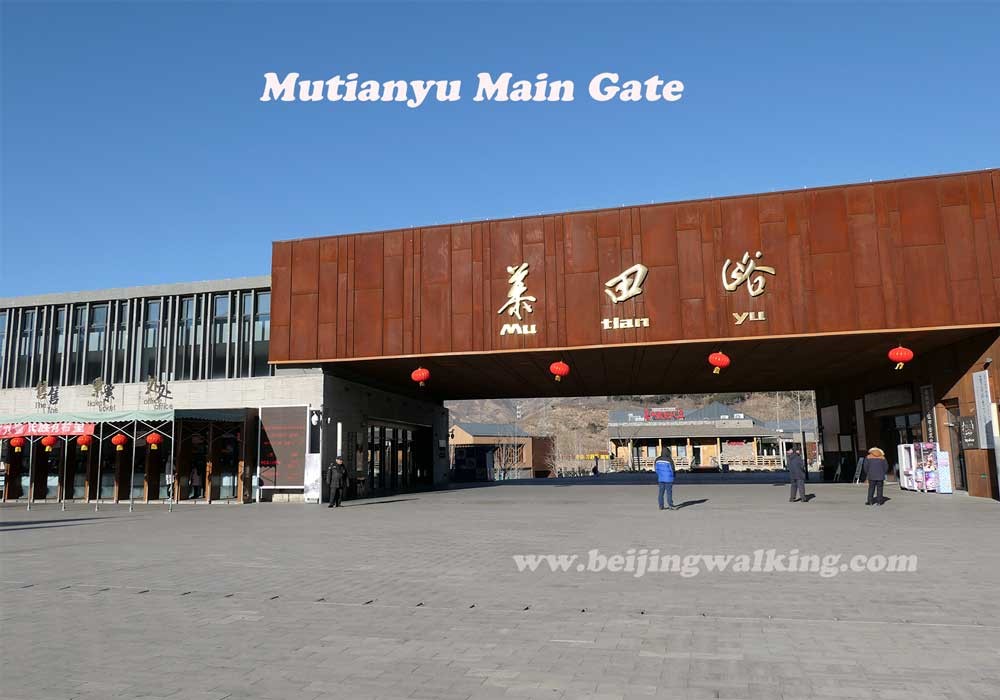 Hike up: Allow around one hour to climb the 3000+ steps.
There are 3 entrances you can go for the hike. 2 of them at the Cable car and toboggan station. The 3rd one is between the toboggan and cable car which is called China stone museum. I think to go up the wall by the museum is more interesting as the other 2 ways are only steps.
Cable car: The cable car takes you to tower 14, you can walk to tower 20 or even more, the view is excellent. You need about 1.5 hours.
Toboggan: For those who really want to trek miles more for the experience, single-rider toboggans descend (at a safe speed) from the east end of the wall to the valley. The Chairlift takes you to tower 6; you can choose to walk the challenge part to tower 1. Or take the easy walk to tower 10. The views from both sides are magnificent.
Entrance and shuttle bus
Opening Hours
March 16 to November 15:
Monday-Friday: 07:30-18:00; Weekends: 07:30-18:30November 16 to March 15: 8:00-17:00
Admission
Adults: 45 RMB
Seniors elder than 60: 25 RMB (valid ID or passport required)
Children between 1.2 and 1.4 meters (3.9 and 4.6 feet): 25RMBChildren under 1.2 meters (3.9 feet) are admitted free.
Cable car and Toboggan
Adults
Children
Cable car
  Round-trip
120RMB
60RMB
  One-way
100RMB
50RMB
Slide or Toboggan
  Round-trip
120RMB
60RMB
  One-way
100RMB
60RMB
Open time
  March 16 to November 15: 08:00-17:00
November 16 to March 15: 08:30-16:30
Note: Children between 1.2 and 1.4 meters (3.9 and 4.6 feet) can enjoy the student price. More than 1.4 meters should pay adults price. Children under 1.2 meters (3.9 feet) are admitted free.
Restaurants / Cafes near Mutianyu
XinShuangQuan Restaurant, Chinese restaurant, Food include Kung Pow Chicken, Sauteed Mushrooms, and Local Barbecue Fish. One of the few local restaurants opens late. 30-50yuan per person. Open time: 8:30am–7:00pm. Phone: (010)61621633
Xiaolongpu Restaurant, dishes from around China, including Sichuan, Canton, Northeast, and even Beijing. A good place for a quick meal to or from Mutianyu. 30-50yuan per person. Open time: 8:30am–7:00pm.  Phone: (010)61621322
Fish Chef, near Mutianyu Roundabout famous for the rainbow trout barbecue, 30-50yuan per person. Open time: 7:30am–10:30pm. Phone: (010)61621024
Xierlaoman dumpling restaurant, near the shuttle bus station, 50yuan per person.Open time: 7:30am–10:30pm. Phone: 13811546052
What's the Best Time of Year to Visit?
That's a matter of opinion, but Leo prefers the fall. By then, the summer crowds have eased, and so usually has the heat — that's especially important if you're climbing up to the top of Great Wall.
What does the weather like at Mutianyu Great Wall?
Spring
Throughout the spring months, (April to May) temperatures in Beijing rise quickly day to day. They also vary greatly (around 12

C-14

C) between day and night.
Summer
Summer months in this city (June to August) are long and hot with plenty of rainfall. With the exception of the hilly areas, the monthly average temperature is above 28

C (82

F).
Autumn
Autumn (September to October) is perhaps the most attractive season in this city when there is plenty of sunshine and cooler temperatures around 20

C (68

F).
Winters in this city (November to March) are cold. A trip during these months may be a shock to visitors from tropical countries. The monthly average temperature is below 0

C (32

F) from December to February.
Check the daily weather:
China Weather report of Mutianyu Great Wall:
http://en.weather.com.cn/weather/10101050009A.shtml