The problem with many of the Great Wall sections is that they can be somewhat difficult to reach or too crowded to visit. The Badaling Great Wall has over 30000 visitors daily. Jinshanling Great Wall with 2.5 hour's drive or 3.5 hours public transfer to go. Some of the wild sections are difficult to find and visit. On the other hand, the Mutianyu Great Wall is terrific. It is all the excellent facilities that make your visit comfortable and enjoyable. It is not difficult to do it via public bus. If you want to save some dollars, this is what you are looking for.
Update:
There is a new open shuttle bus from Beijing Dongzhimen wai station to Mutianyu Great Wall. It runs from 8:30 am daily. The bus will go to Mutianyu Great Wall without any other stop. The ticket price is 30RMB each way. This is the easiest way! In case there are too many people you can't get on the bus or you get there too late and miss the bus. You should go to the Dongzhimen station and take 916 expresses as I mentioned below to Mutianyu.
Take the bus to Mutianyu
How to find Dongzhimen wai station (东直门外)?
The bus station is a little bit further than the point on the map. Take exit B at Dongzhimen. The bus station is outdoors and is at the corner of Xiang he yuan S street and DongZhimen wai Xie Jie (about 5/10 mins walking distance from Dongzhimen subway). At the entrance of the bus station, you'll find a blue sign: « Dongzhimen to Jinshanling Great Wall (express line) ». Go inside and just right to the toilets you'll find the waiting area for the shuttle bus.
The way back from Mutianyu is at the Mutianyu Parking 1 where they dropped off you: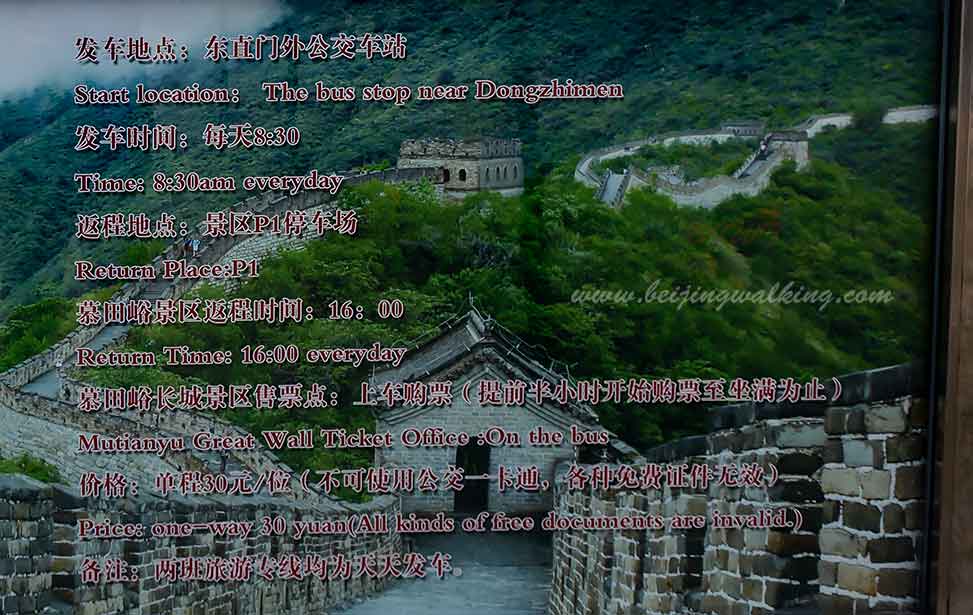 Dongzhimen Wai station is also the station where you can take the public bus to Jinshanling. If you like to go to Jinshanling, you need to read this:  How to get to Jinshanling Great Wall? If you miss the only shuttle bus, you can make it with the information I posted below. It is also cheaper. Mutianyu is a very popular Great Wall that is 75 km away from downtown Beijing. There is no direct public transfer to get there daily; if you plan to visit by bus, you need one transfer. The best way to Mutianyu by public bus is 916 express + H23. It is easy! https://youtu.be/hd-mnNLtYLo
Take the subway to Dongzhimen station at line 2 and line 13 (东直门站 13号线,2 号线)



Take the 916express bus to Huairoubeidajie (怀柔北大街). (916 express快 means fast if you take the normal 916, it is not going highway and will take more than 1 hour to get there)
Go to the opposite side of the Huairoubeidajia bus station when you get off from 916 and take H23, H36, and H35 to Mutianyu Huandao (慕田峪环岛)
Walk 5 minutes to the ticket office and buy the shuttle bus tickets and entrance tickets. Take the shuttle bus to the entrance at the foot of the Great Wall. Hiking the Great Wall
How to visit Mutianyu Great Wall?
The shuttle bus will take you to the entrance of the Wall. There are 3 entrances you choose. So which way do you need to go? Don't worry; all the entrances can get up to the wall with about a 30-hour walk of 2000+ steps. I have 4 recommended routes for you to discover the wall. Where can I get the best view? In my experience, the best view is from tower 8 and tower 16. Where is the most challenging part? From tower 19 to tower 20 are most steep.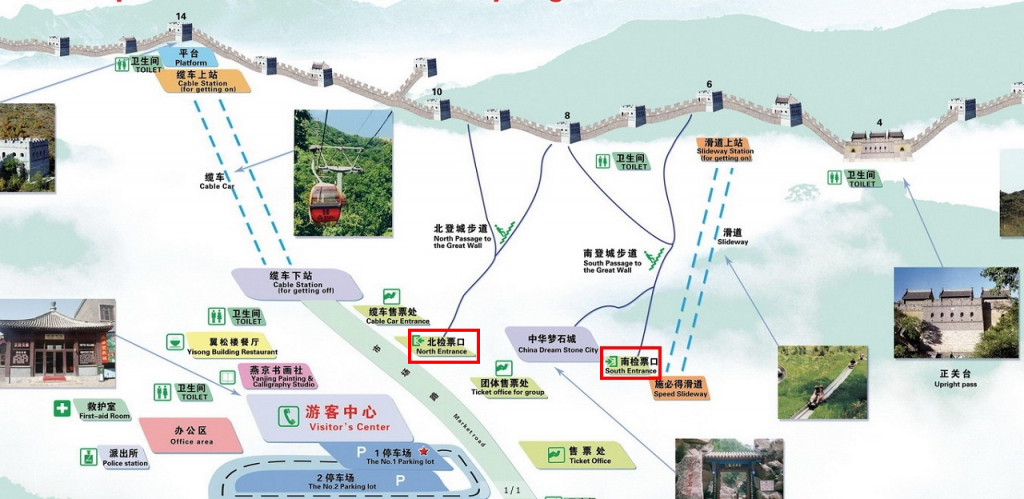 1. By foot From China Dream, stone city to Tower 6 and walk to tower 20. This is an 8 km hike. It needs about 3 to 4 hours. It is a tough hike because of all the steps. 2. Cable car up and down (2 hours). You can walk around tower 14, and especially you can try to go up the steepest part of tower 19. 3. Ski lift up and toboggan down. You can walk up from tower 3 to tower 2 which is very steep as well. The view near tower 8 is very nice. 4. Cable car up to tower 14 and toboggan down from tower 6. This is the easiest way to enjoy the whole section of the Mutianyu Great Wall. But the two different companies operate cable cars and chairlifts (toboggan) separately.
What is the bus schedule?
916快(916express bus)from Dongzhimen bus hub (东直门公交枢纽)to Huairou(怀柔北大街)The first bus from Dongzhimen station (东直门) is from 5:50 am. It runs every 5 to 10 minutes. If you can get there before 6:30, and take the bus. You can get to the wall at around 8 am, it is a good time to visit the wall! Peaceful and quiet! 916bus from Dongzhimen to Huairoubeidajie … 1 hour (12 RMB with Beijing metro card) Huiaroubeidajie to Mutianyu Huandao you can take the bus: H23, H24, H35, H36. These buses come every 20 minutes. 30 minutes by bus to Mutianyu Huandao(慕田峪环岛) (4 RMB with Beijing metro card) Beijing metro card can help you enjoy a 50% discount on the bus fee.
 What time is the last bus back to Beijing?
The last bus finishes at about 6:30 pm from Mutianyu Huandao (慕田峪环岛)to Huairoubeidajie(怀柔北大街). The last 916 bus from Huairoubeidajie(怀柔北大街)to Dongzhimen bus hub is 7 pm.
 916 and 916 Express (916快)
Both the 2 bus runs in the same direction and can get to Huairoubeidajie (怀柔北大街) Kuai 快 means express or fast, the 916express bus goes the highway and only stop at big stations while the 916bus not used the highway and waste a lot of your precious time. So make sure to take the 916express bus.
Mutianyu Great Wall tickets price
Entrance and shuttle bus
| | |
| --- | --- |
| Opening Hours | March 16 to November 15: Monday-Friday: 07:30-18:00; Weekends: 07:30-18:30November 16 to March 15: 8:00-17:00 |
| Admission | Adults: 45 RMB Seniors elder than 60: 25 RMB (valid ID or passport required) Children between 1.2 and 1.4 meters (3.9 and 4.6 feet): 25RMBC children under 1.2 meters (3.9 feet) are admitted free. |
Cable car and Toboggan
Adults
Children
Cable car
  Round-trip
120RMB
60RMB
  One-way
100RMB
50RMB
Slide or Toboggan
  Round-trip
120RMB
60RMB
  One-way
100RMB
60RMB
Open time
  March 16 to November 15: 08:00-17:00 November 16 to March 15: 08:30-16:30
Note: Children between 1.2 and 1.4 meters (3.9 and 4.6 feet) can enjoy the student price. More than 1.4 meters should pay adults' price. Children under 1.2 meters (3.9 feet) are admitted free.
FAQS:
How to return from Mutianyu to downtown Beijing?
You can take the same bus back to Huairou Beidajie and then transfer to the 916 express back to Dongzhimen station.
What is the best time to visit Mutianyu without the crowd?
It is better not to visit there on the weekend and Chinese holiday, the most crowded time for Mutianyu is April, May, September, and October. If you travel during the busy season, it is better to start your trip early in the morning.  It is not as busy as Badaling Great Wall, but the number of tourists increasing very quickly in the last few years.
How to go to Mutianyu from Wangfujing? 
Take subway line 2 to Dongzhimen subway station. Transfer the 916 express bus to Huairoubeidajie. Transfer H23 to Mutianyu Great Wall
How to take the public bus from Beijing airport to Mutianyu? 
Take the airport express from the airport to Dongzhimen station. It is about half an hour; the ticket price is 25RMB. The take 916 expresses go to Huairoubeidajie station and transfer H23 to Mutianyu.
How much taxi from Beijing to Mutianyu?
For 75kms, the official taxi fee is 250RMB, and from the airport to Mutianyu, the Offical taxi is 200RMB. But most drivers don't want to go if you don't take their car back to the city. So you'd better negotiate with the drivers and make a good deal for an around way trip. It is around 650RMB for a round trip; the taxi drivers will be happy to go.