2017-09-09&nbsp&nbsp Leo Kui&nbsp&nbsp
jinshanling
&nbsp&nbsp
54
News: The Jinshanling highway station is closed because of new construction. I will let you know here when it is reopened.
People who want to use the public bus to Jinshanling have to go to Luanping and take a taxi to Jinshanling. Or you can use our car service for this trip.
Jinshanling is 150 km away from Beijing. It is close for a short time in 2017 but reopens in October 2017. Can you visit the wall by public bus? Yes, there is a direct express bus from downtown to Jinshanling. Easy to take!
Why choose the Jinshanling Great Wall to visit?
The main reasons:
#1 Super beautiful view
#2 Hike Jinshanling is moderate for any fitness
#3 150kms away from downtown Beijing make it crowd-free.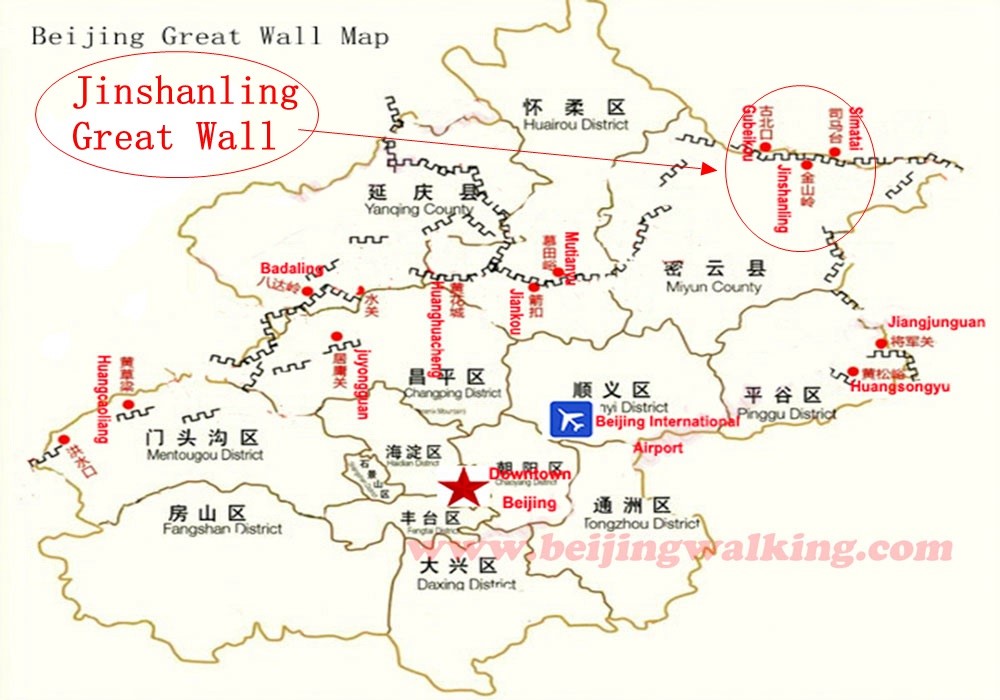 Rental a car or taking a tour is the easiest way. If you want to save some dollars and get a bus experience, you need to read this. This is the best way to take the public bus to Jinshanling and the only way to make it in 1 day by public bus.
Take Beijing to Luanping City bus to visit Jinshanling.
The bus starts from Wangjing west station (望京西站) to Jinshanling Great Wall (金山岭长城)without stop. (Jinshanling is about 150kms away from Beijing, the bus take about 2 hours to get there). Especially Jinshanling Great Wall closed 4 months for renovation in 2017. After it reopens on 4th October 2017, I found there are a lot of changes. I went to Jinshanling Great Wall by taking Beijing to Luanping bus on 28th November 2017.
Jinshanling Great Wall closed in 2017?
This section of the wall was ranked to a 5 stars attraction by the Chinese Tourism Administration. It is closed for about 4 months (1/6/2017-10/17/2017) to upgrade the facilities.
Update:
There is a new open shuttle bus from Beijing Dongzhimen wai station to Jinshanling Great Wall. It runs from 8:00 am daily(April to October). The bus will go to Wangjin west and then go to Jinshanling. The tickets price is 50RMB each way. This is the easiest way! In case there are too many people you can't get on the bus or you get there too late and miss the bus. You should go to the wangjing west to take Beijing to Luanping bus.
How to find Dongzhimen wai station (东直门外)?
The bus station is a little bit further than the point on the map. Take exit B at Dongzhimen. The bus station is outdoor and is at the corner of Xiang he yuan S street and DongZhimen wai Xie Jie (about 5/10mins walking distance from Dongzhimen subway). At the entrance of the bus station, you'll find a blue sign: « Dongzhimen to Jinshanling Great Wall (express line) ». Go inside and just right to the toilets you'll find the waiting area for the shuttle bus (Orange sign).
This is also the bus station take the direct bus to Mutianyu Great Wall, if you like to go to Mutianyu Great Wall, you need to read this:How to get to Mutianyu Great Wall by bus?
If you miss the shuttle bus from Dongzhimen wai which runs only 1 time at 7:40 am every day, you should read this below to take the bus from Wangjing west (望京西) to Jinshanling.
#1 Being to Luanping (滦平) Bus.
Bus schedule time (Daily):
Wangjing west (望京西) to Luanping bus station(滦平) (7:00-16:30)
Schedule time: 7:00、8:00、9:00、10:00、11:00、12:00、13:00、14:00、15:00、16:00、16:30
Luanping (滦平) to Wangjing west (望京西)(6:30-16:00)
Schedule time: 6:30、7:00、7:30、8:00、8:30、9:00、9:30、10:30、11:00、12:00、13:00、14:00、15:00、16:00
The next stop after Wangjing west is Jinshanling highway service station(金山岭服务区). From Wangjing west to the service station is about 2 hours. From Luanping station to Jinshanling highway service station is about 30 minutes. According to this, the bus time from Jinshanling expressway service station back to Beijing is about like this: 7:00、7:30、8:00、8:30、9:00、9:30、10:00、11:00、11:30、12:30、13:30、14:30、15:30、16:30
 Tickets Price
The bus fee is 32RMB per person. Kids under 1.2 meters are free. If you don't use Yikatong (Beijing metro card), you just pay the conductor by cash.
I was very confused when I used the Metro card to take the bus. Why?
This bus is cooperative by Beijing and Hebei Province. The total price is 32RMB. Beijing section charges 19RMB, Hebei Province charges 13. Only the Beijing section can use Metro cards, so when you buy the tickets, 13 RMB cash is necessary. And then use the metro card pay 9.5 CNY on the bus POS machine. Because with the metro card, you can enjoy half-price in the Beijing section. If you don't have a metro card, you should pay 32RMB for the ride.
#2 How to find the bus station?
Actually, it is very easy to find the station after you walk out from Wangjing West subway station(望京西站). I took subway line 13 and got out from exit B. Walk down the bridge to the left side, about 100 meters walk to get to the bus station. We want to start a bit early, so we get to the subway station at 7:45 am in the morning for the bus at 8 am. Beijing subway begins at 5:30 am. So it is also possible to catch the first bus at 7 am.
#3 Get Jinshanling Great Wal
Take the public bus from Wangjing west to Jinshanling highway service station.
Once we get on the bus, Except a toilet stops at Miyun highway service station(密云高速服务区), the bus has no other stop before we got to Jinshanling highway service station. We get on the bus 8 am and get to Jinshanling 10:30 am.
Take the free shuttle bus
Jinshanling highway service station (金山岭高速服务区) is only 1.5kms away from East  Gate of Jinshanling Great Wall.  At the right hand, you can see the Jinshanling Great wall information center. Take the free shuttle bus to the entrance of the Wall. The free shuttle bus mainly serves the people who take the public bus from Beijing. As long as there is people want to go to the wall, the free bus will start to run. You can choose either stop at East gate or main gate. It depends on how you would like to visit the wall.
If you want to start from the main gate, when the free bus drops off you, you need to change the 2nd free shuttle bus to get to the Main Gate (3 minutes drive). It is a bit complicated from here, but when you are there, it is very clear and easy.
We want to hike from the main gate to the east gate (7kms), so we decide to the main gate first.
You can take the shuttle bus.(free shuttle bus schedule: 10:00,11:00,13:00,15:30) If you miss the shuttle bus here, you can easily take a transfer by the local driver with 20RMB pp or so to the main gate.
The 2nd free shuttle bus from the main gate to the entrance is not free anymore. It is 10RMB per person.
#4 Hike from the main gate to the east gate
| | | |
| --- | --- | --- |
| | Busy season(Apr to Oct) | Low season(Dec to Mar) |
| Open time | 6:30 – 18:30 | 8:30 – 16:30 |
| Ticket price | 65 RMB | 55 RMB |
If you don't like hike too much, there is a cable car you can choose from. The price for the cable car is 40 RMB (1 way). The round way is 60RMB.
Our hike route is Main gate-Zhuanduo pass – Houchuankou – east 5-windows tower – east gate. 7kms hike, 3.5 hours. The view is absolutely amazing! Of course, you can customize the route based on your own.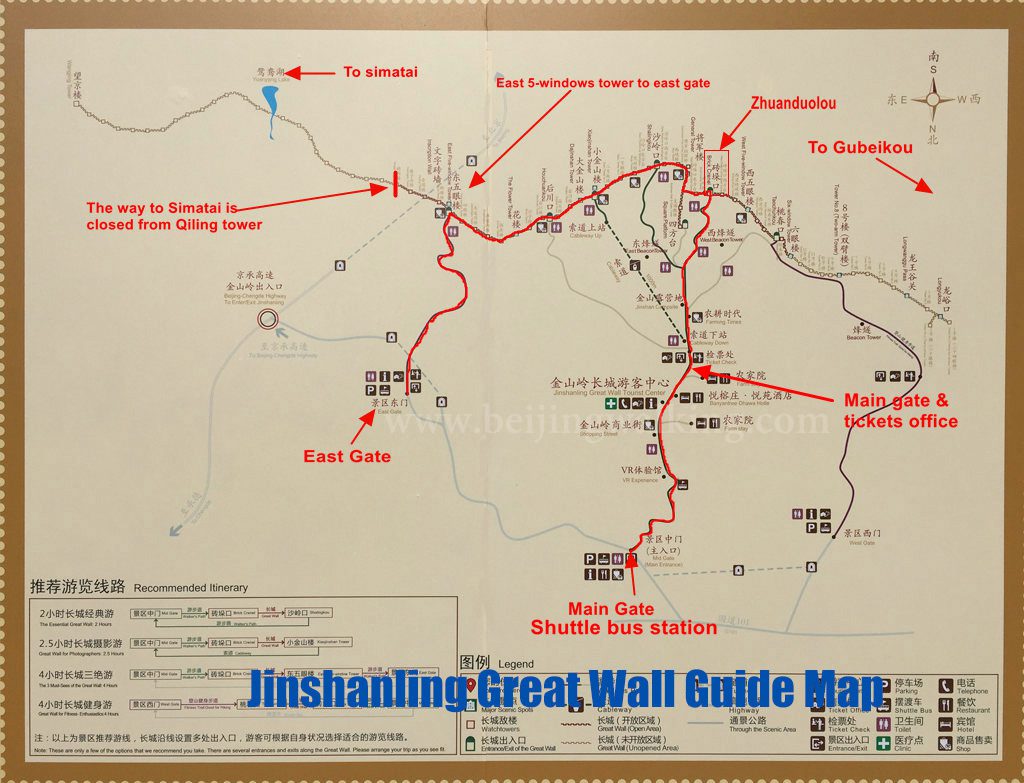 #5 Get back from Jinshanling Great Wall to Beijing
When we came out from the East Gate, the free shuttle bus was just right there. We quickly jump on the bus, and the driver takes us to the Jinshanling highway service station immediately. Unfortunately, we missed the bus at 2:30 pm about 10 minutes late. So we had to wait for the next one which comes at 3:30 pm.
Tip: It is better to go into the small supermarket to inform the bus conductor that we will take the bus back to Beijing. Because she will call the start station (Luanping) and reserve seats for you.
We get back to Wangjing west station at 5:30 pm. 2.5 hours by bus, it was a bit of traffic jam that day.
I will keep updating the latest information to help all the travelers. Please let me know any of your suggestions or questions. I would be more than happy to assist with your Great Wall trip!
Cheers!
Tours related to Jinshanling Great Wall: