2020-12-11&nbsp&nbsp Leo Kui&nbsp&nbsp
jinshanling
&nbsp&nbsp
0
Visit Great Wall is a must for all people. There are so many sections of the wall such as Badaling, Mutianyu, Simatai… But if you are looking for a unique experience, you should check out Jinshanling Great Wall.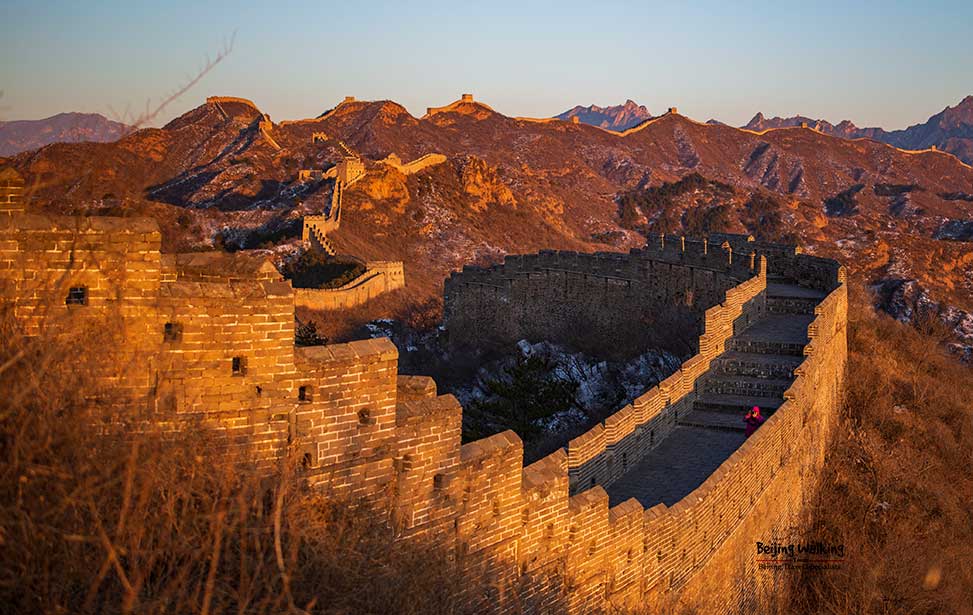 Where is Jinshanling Great Wall?
150 km (93 miles) northeast of Beijing, about 2½ hours' drive.
How to go to Jinshanling?
The easiest way to Jinshanling is to Wangjing west station and take Beijing to Luanping City Bus. It takes about 3.5 hours to include the subway etc. I have a post:
History and facts:
It was constructed under the direction of General Xu Da in 1368 during the Ming Dynasty (1368-1644) and renovated under the supervision of the great general Qi Jiguang and the local governor Tan Lun in 1567. The Jinshanling section of the Great Wall is 10.5 km long with 5 passes, 67 towers, and 3 beacon towers. The initial section of the wall has been restored to its original condition, but the situation of the wall deteriorates towards its natural state as it approaches Simatai. The entrance fee is 65 RMB. A cable car (40 RMB) has been constructed to take visitors to the highest point along the wall.
1. Jinshanling is closed in 2017 By promoting the facility, this section of the wall close for half a year in 2017, it reopens in October 2017
2. Jinshanling to Simatai hiking is not doable The way connected Jinshanling and Simatai is blocked at Qilin tower on the east side of Jinshanling. So you cannot walk through. Hikers only can walk to the east gate which is also called Simatai west in some blogs from the east 5-windows tower.
3. Hike from Gubeikou to Jinshanling is closed in 2020. We will update it when it is reopened.
Entrance fee and open time
| | | |
| --- | --- | --- |
| | Busy season(Apr to Oct) | Low season(Dec to Mar) |
| Open time | 6:30 – 18:30 | 8:30 – 16:30 |
| Ticket price | 65 RMB | 55 RMB |
If you don't like hiking too much, there is a cable car you can choose from. The price for the cable car is 40 RMB (1 way). The round way is 60RMB. By the way, the cable car here is very slow (17 minutes for 1 way.) The cable car is not open in wintertime.
How to Visit Jinshanling Great Wall?
Recommend Route:
Route A (1.5H/2 km) 2 hours classic route: Mid Gate -Zhuandukou-General tower-shalingkou-Midgate. This is a moderate hike. The best view is at General tower. Route B(2H/2 km) Classic Photo photo route (2 Hours ) Take the cable car up and walk down. This is a very easy way, but you won't miss the best view! Mid Gate-Cable car to Xiaojinshan Tower- Shanlingkou tower-walk to the Mid Gate. Route C (2.5H/4kms)  Start from Mid Gate-zhuanduokou-xiaojinshan tower-Houchuankou- walk to the main gate Route D (3.5H/8kms) Classic hiking from Jinshanling to Simatai West. Start from the Mid Gate-zhuanduokou-shalingkou-houchuankou-east 5-windows tower-east gate
The toughest part for Jinshanling to Simatai west hike
The most difficult part is at the Flower Tower. The stairs are almost 80 degrees, you'd better do backward.
What is the best time to visit? Is it safe to visit in Winter?
The weather at Jinshanling is about 5 degrees lower than in Beijing. The air quality is much better and always has a blue sky. It is not snow very often, usually 2 or 3 times a year. It is good to visit all year round. For photo lovers, it is better to go for sunrise or sunset. Jinshanling Great Wall manages well to open early and close late, so give the photographers time to take photos at their preferred time.
Jinshanling Great Wall accommodation.
If you want to come to the wall to enjoy the Sunrise and Sunset view, there are many guest houses you can choose from near the Midgate and east gate. These guest houses are run by the locals. It is clean and safe to stay. The price is around $30 to $40 per room.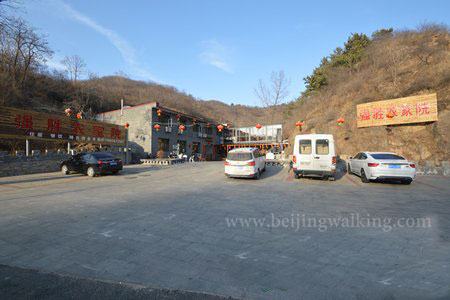 Why you choose Jinshanling Great Wall?
Pros
The amazing landscape and the flexible open time. Especially it is not so busy, so you can enjoy the wall in your own peace.
Cons
Far away from Beijing. It is about 2.5 hour drive. And it is not in Beijing, so the way back to Beijing needs a security check. The queue is sometimes very long(especially on the weekend)
The other facility is not so well compared with Badaling or Mutianyu. Such as restaurants and hotels.