Where is Jiankou?
Jiankou Great Wall is a wild Great Wall that has not been rebuilt and is run by the government as a tourist site. This section of the Great Wall means the wall around the Xizhazi village. This village is 38 km northwest of Huairou district (100 km from downtown Beijing). It is a super beautiful village! This village has 300+ years of history. It is surrounded by mountains from 3 directions, and the Great Wall goes from east, south, and west on the top of the mountain. (alt 615 meters). The Jiankou to Mutianyu Great Wall hike is among the most famous and TOUGH Great Wall hikes. You choose this hike for many reasons, but the most important is its beauty and quietness. If you want to hike this part of the wall by yourself, read all the tips before you go. This classic hike is about 11 km. The route is from Xizhazi village (Group 2 Nanjili 2 队南吉利村) to Mutianyu Great Wall main gate.
Research and Understand the Route:
Overview (5 steps):
1. Start at Group 2 (or called Nanjili 2 队) in Xizhazi village to Zhengbeilou (正北楼) (2kms) 2. Walk east to Ox-horn edge 3. Walk to Mutianyu Great Wall 4. Get down from the Wall 5. Get to the main gate and finish the hike
Jiankou to Mutianyu Hiking Map: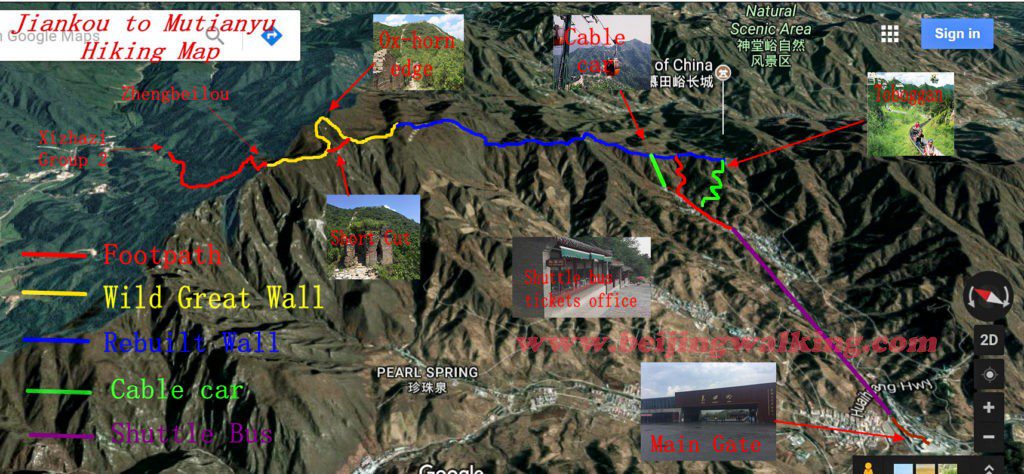 Walking Level: ★★★★☆ Walking distance: 11kms Walking duration: About 4 hours Optimal season: All year round, best time: March-December Terrain: Rolling to hilly Min Altitude: 331m Max altitude: 978m
1. Start from Xizhazi village Group 2 (it is also called Nanjili) in Xizhazi village to Zhengbeilou (正北楼)
Hiking started from Xizhazi village Group 2 (Nanjili ). Nanjili is the 2nd group of the Xizhazi village. When you get to Xizhazi village two dui(西栅子2队), the hiking is officially started. The whole hike is about 11 km. The highest altitude is about 1000 meters. If you take the shortcut and take the cable car, the hike is only 8 km. How to get to Jiankou, you can go there by public bus or have a private driver take you there.
There is only one main road leading up to Zhengbeilou Tower. Please follow the more prominent road, and you can tell more people to walk the path than any other small road. If you get lost, please check if this tower (Zhengbeilou) is the one you need to go.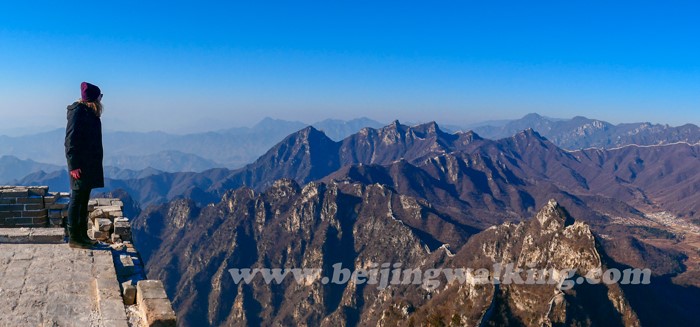 About 1-hour hike on the way, Get to Zhengbeilou (正北楼). You need to climb up the stairs. When you get to Zhengbeilou (正北楼 ), it is the official time to enjoy the great view of the Great Wall. The view of Zhengbeilou is amazing! You can enjoy all the wild sections of Jiankou. Even get to the top of the tower. Be careful!
(No one has charged the stair fee anymore since 2020.)
2. Walk east to Ox-horn edge. 牛角边
It is about 30 minutes walk to get to Ox-horn edge. I think this is the most challenging part of the hike. The way up and down is utterly destroyed. Especially the way down, even without trees, you can hold. It is super steep, and be careful. The Ox-horn edge is not suitable for everyone. If you don't want to make the adventure, take the shortcut. When you arrive at the Ox-horn edge before you climb up, there is a tower marked "MTY," which means doing a shortcut for about 5 minutes to avoid going up the wall. After a 5-minute walk along the footpath, you will return to the wall again.
3. Walk to the Mutianyu Great Wall
After the Ox-horn edge, it is about a 30-minute walk to the rebuilt section of Great Wall Tower 23. From this tower, you will see a lot of red rebins on the trees, which are bound by tourists for good luck! After this, the Great Wall was rebuilt and easy for walking.
Jiankou to Mutianyu blocked?
Mutianyu Tower 20 is blocked, so you have to make a detour to go around Tower 20:
4. Walk down from Mutianyu Great Wall (3 ways)
1. Take the cable car to Tower 14. This is the fastest way to go down. The cable car station is at Tower 14. The ticket price is 100RMB per person. 2. Take the toboggan tower 6. It is about a 1-hour walk from tower 20 to tower 6. Toboggan is very interesting. 3. Walk down. There are many paths leading down from the wall. The first one you will see is after tower 12. Suppose you aren't clear about the number of towers. You can find any way on your right side and walk down. It all leads down to the entrance.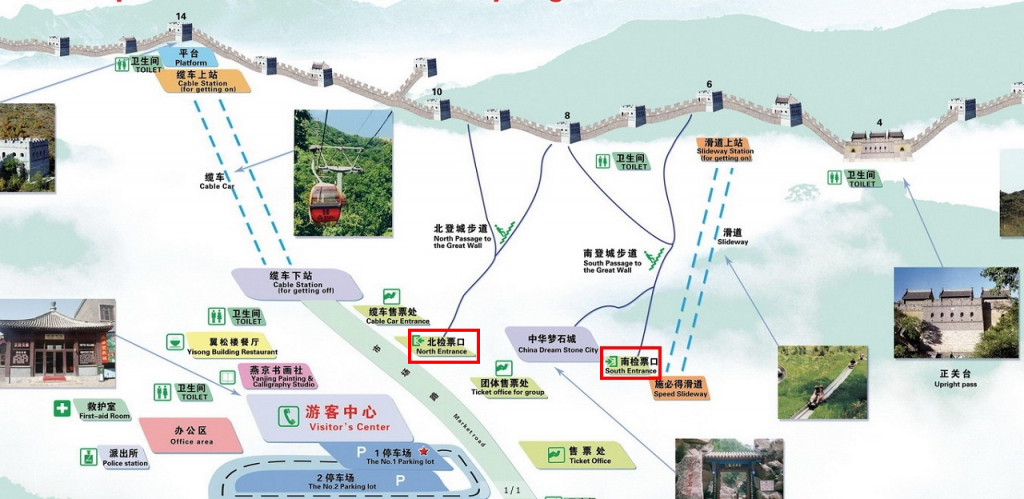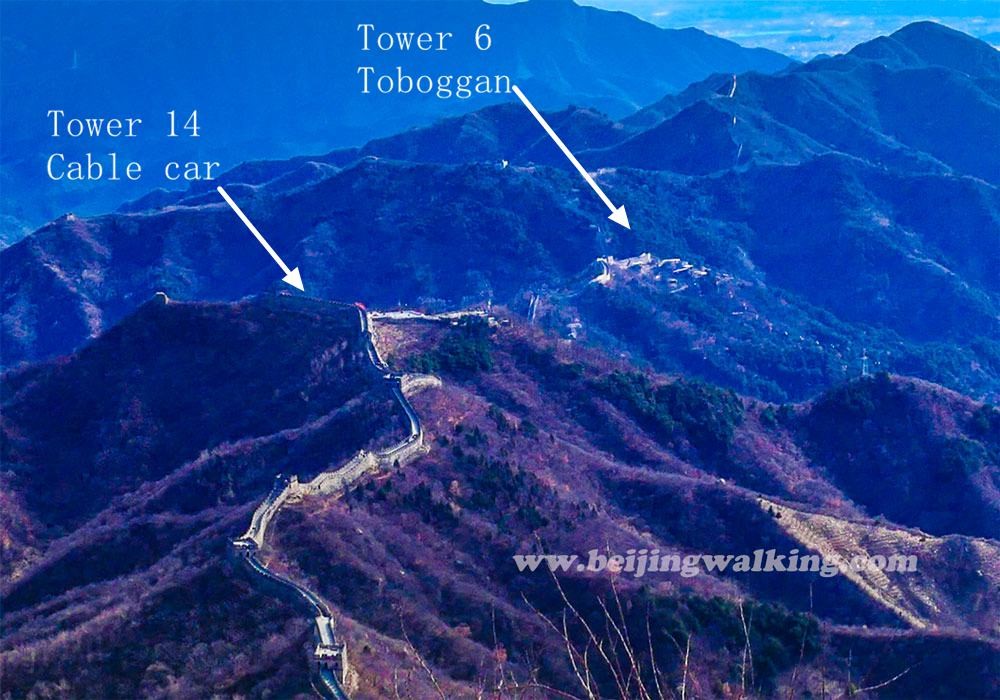 5. Get to the main entrance
After you walk down the Mutianyu Great Wall, you need to buy the shuttle bus tickets and then take the shuttle bus to go out. Shuttle bus fee: 10RMB per person.
After the shuttle bus, just 5 minutes walkout. The main gate is easy to find! You can take the bus home or ask your private driver to meet you here. This is a tough hike, especially the part on the ox-horn edge, which is a little dangerous. In all, this hike is doable for most people who like doing exercise. 11 kms does not seem tough, but plus the uphills and downhills. You can count it as a 20 km walk.
For this hike:
Steps: 21305
Walking distance: 12.5kms
Flights Climbed:175 floors
Other tips for this hike:
Obtain Permits and Check Regulations:
Regulations may vary, so ensure you have the necessary for this hike. Contact local authorities or the relevant tourism office for permits or specific regulations.
Plan Your Travel and Logistics:
Determine the best way to reach the starting point at Jiankou and arrange transportation accordingly. You can hire a private car, taxi, or public transportation. Ensure you have a reliable plan for returning from Mutianyu after completing the hike.
Start Early:
Begin your hike early in the day to allow ample time to complete the route before it gets dark. Starting early also helps you avoid crowds and enjoy the hike at a more leisurely pace.
Pack Essential Gear:
Ensure you have the right equipment for the hike. Carry a comfortable backpack with essentials such as water, snacks, sunscreen, a hat, a first aid kit, a map or GPS device, a fully charged mobile phone, and extra layers of clothing. Wear sturdy hiking shoes or boots, and consider trekking poles for added stability.
Stay on Marked Paths:
While hiking, it's crucial to stick to marked paths and avoid venturing off into unmarked or unsafe areas. The Jiankou section can be challenging, with steep climbs and uneven terrain, so exercise caution and follow established trails.
Stay Hydrated and Energized:
Bring plenty of water and snacks to stay hydrated and energized throughout the hike. Few opportunities for refilling water along the route may exist, so carry an adequate supply. Pack lightweight, high-energy snacks to keep you fueled during the hike.
Be Prepared for Weather Conditions:
Check the weather forecast before your hike and dress accordingly. Be prepared for changing weather conditions; it can be sunny and hot during the day but cooler in the evenings. Layer your clothing to adjust to temperature variations, and pack a rain jacket in case of unexpected showers.
Pace Yourself and Take Breaks:
Take your time during the hike and pace yourself according to your fitness level and the difficulty of the terrain. Take breaks to rest, hydrate, and enjoy the breathtaking views.
Respect the Environment:
As you hike, be respectful of the environment and cultural heritage. Carry out any trash you generate, stick to designated paths, and avoid damaging or removing any artifacts or vegetation.
Safety First:
Prioritize safety throughout the hike. Let someone know about your hiking plans and estimated return time. Stay alert, know your surroundings, and take necessary precautions to avoid accidents or injuries.
Hiking from Jiankou to Mutianyu offers a unique perspective of the Great Wall and allows you to experience its natural beauty. By adequately preparing and following these tips, you can make the most of your independent hiking adventure and create unforgettable memories. I will keep updating the latest information to help all the travelers. Please let me know any of your suggestions or questions. I would be more than happy to assist with your Great Wall trip!
Related tour: