2020-03-01&nbsp&nbsp Leo Kui&nbsp&nbsp &nbsp&nbsp
0
If you find yourself with a spare day or two, here's where to go. Natural Feature.Parks, Natural Feature, Historical Landmark. Don't miss it! This is the Top 10 sights I choose for your unique experience.
1. Potala Palace (Putuo Zongcheng Temple 普陀宗承之庙或小布达拉宫)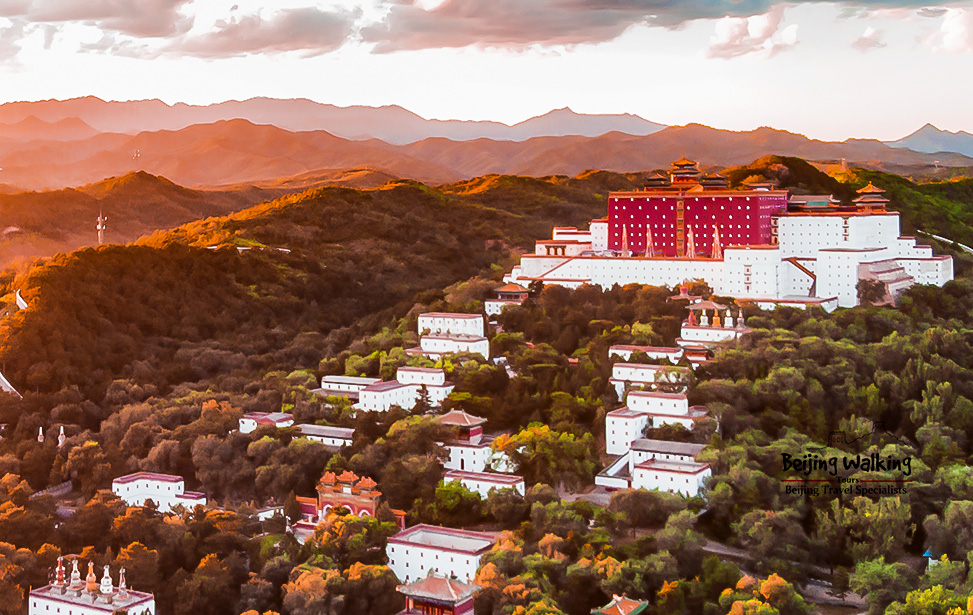 Potala temple is in Chengde which is about 250kms away from Beijing (3 hours drive). There are 8 temples here with similar Tibet Buddhism style architecture. This Temple here is the largest, over 2.4 million sq feet and is a replica of the Buddhist Palace in Tibet, so it has both architectural styles.
Tip: You can take a 1-day trip visit this temple and the old summer palace from Beijing city. The best way to enjoy it is a 2-days trip. Visit the Old summer palace on day 1 and the temples on Day 2.
Address: North of Lion Ditch, Chengde 068450, China (230kms /143mils away from Beijing)
Open time: 8:00 to 17:30
Tickets price: 80RMB
2. Eastern Royal Tombs of the Qing Dynasty (清东陵)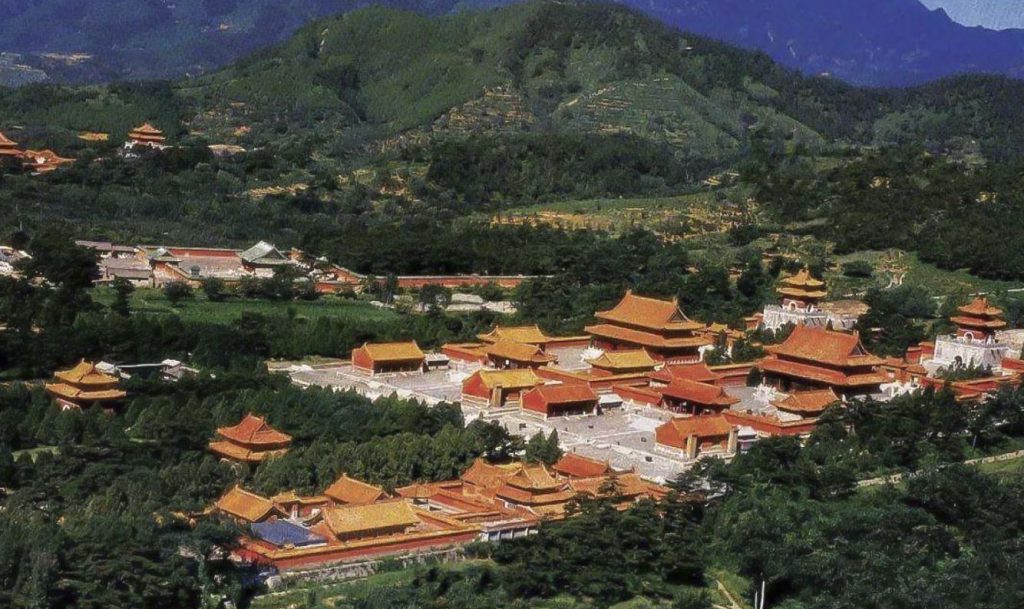 Typically when you go to Beijing, you would go to the Ming Tombs and Great Wall on a single day trip. If you can, however, hire a car and go here instead of the Ming Tombs. There's so much more to see, and it's much less crowded. A full day trip is recommended as traveling to and from Beijing are around five hours.
Tip: It is better to have a private drier take you there since the public transfer is too long and complicated.
Address: Northwest of Zunhua, Zunhua 064200, China (about 140kms or 87 miles from Beijing)
Entrance fee: 108RMB, shuttle bus: 30RMB
3. Shilingxia Scenic Area – UFO glass platform (石林峡)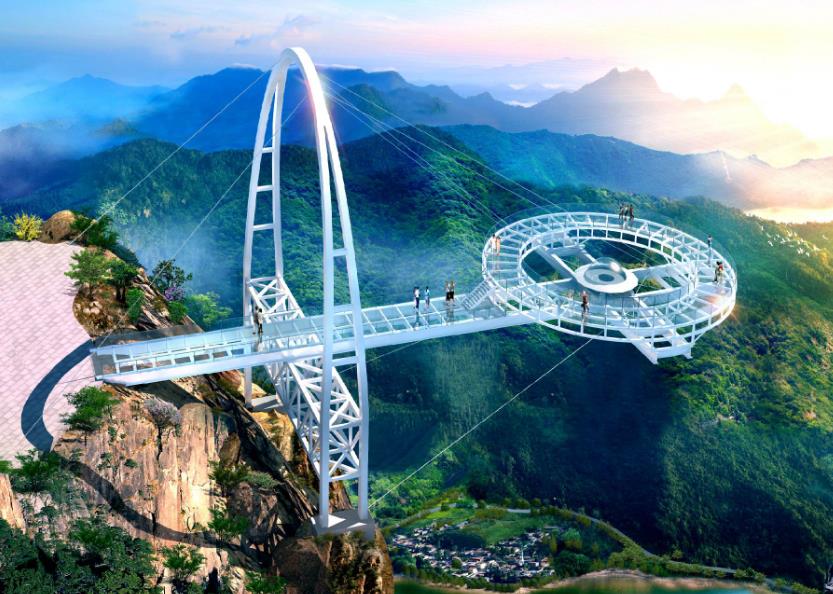 There are two ways of reaching the UFO glass bridge in Shilinxia valley. One option is to take the cable car and then climb uphill for about an hour. This can be a strenuous route for those with knee problems and heart issues. The other alternative is an hour-long trek from the valley floor (the parking lot) towards the rear side of the mountain. This route has been made convenient for travelers and families with many options to take rest and proceed. Small streams, squirrels, and birds can be observed along the way. There is a 150 step climb that can be easily covered even by the infirm to reach a second cable car, that takes you to the base of the UFO glass bridge.
Address: No. 73, Diaowo Village, Huangsongyu town, Pinggu District, Beijing (100kms/62miles away from downtown Beijing)
Entrance fee: 68RMB  Cable car: 100RMB, UFO glass platform: 40RMB
Open time:  7:30 -18:00
Take the subway to Dongzhimen station (line 2 /13), take bus 852 to Pingguxiaofangzhan station(平谷消防站)(18 stations), change Bus ping 25 (平25) to shilinxia station. (17 stations)
4. Cuandixia village (爨底下村)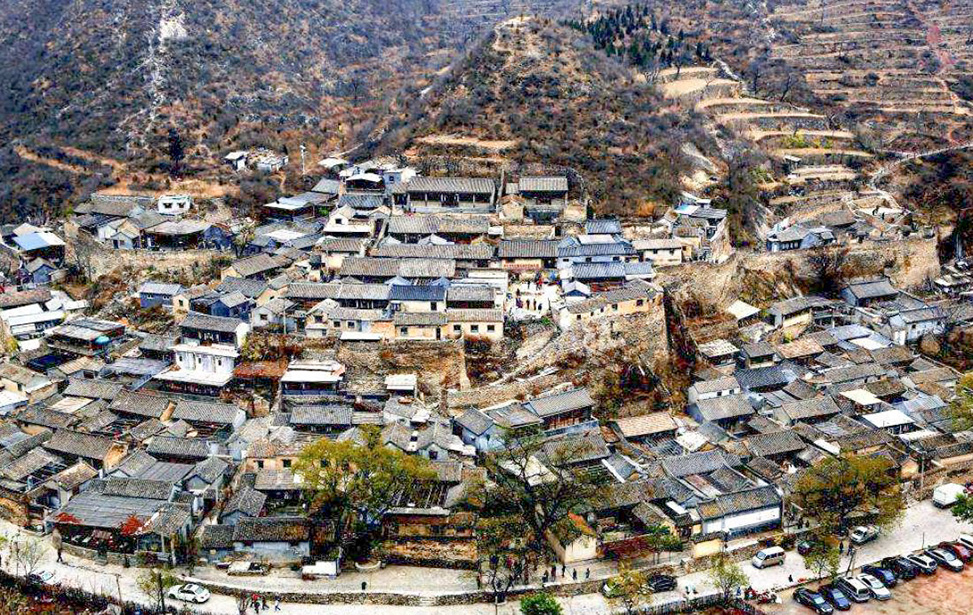 This village is located 56 miles (90kms) away from downtown Beijing in Zhaitang town, Mentougou district. It was selected as the most beautiful village in Beijing. For more information: A 400 years old village in Beijing – Cuandixia
5. Porcelain House (瓷房子)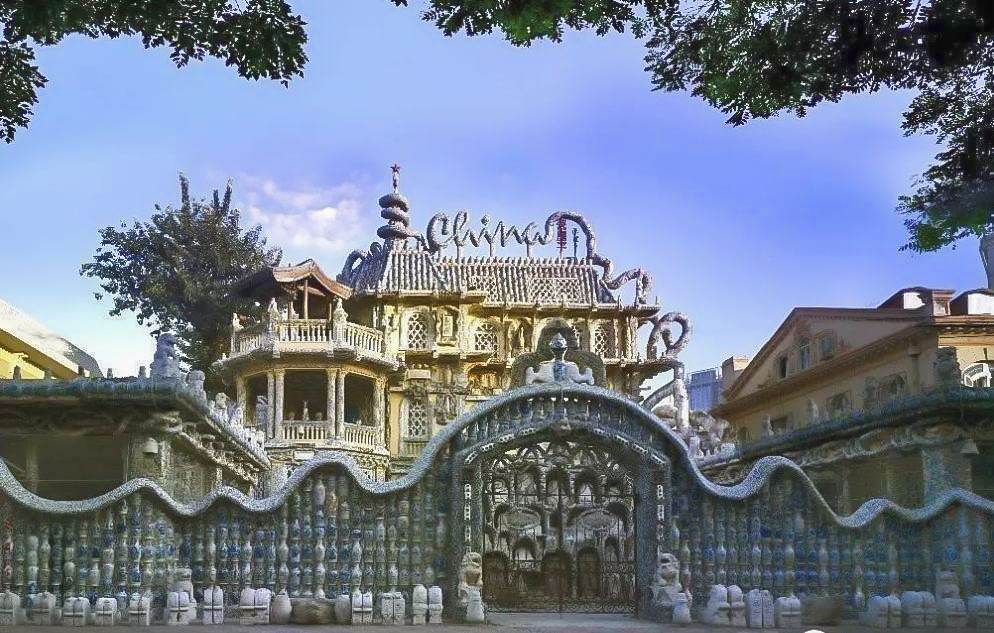 Tianjin is a bit city but not far away from Beijing (130kms/80miles), there are many interesting sights that are all close to each other. You can take the fast train to Tianjin within 30 minutes. It is a great idea to take a one day trip from Beijing.  The porcelain house is one of my favorite places in Tianjin.
6. Hongluo Temple (红螺寺)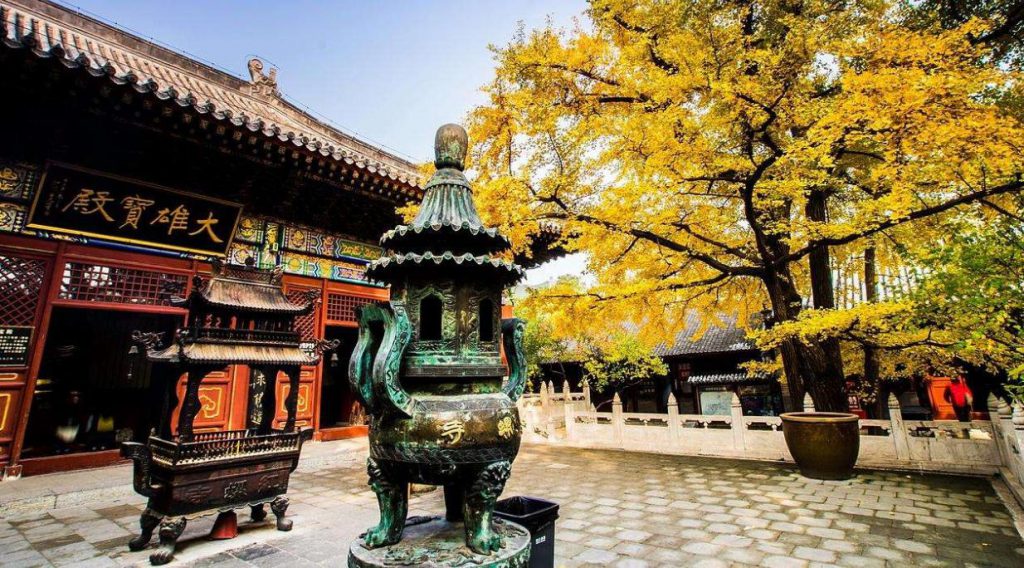 The temple is a lovely quiet place. Take time to study the gigantic bamboo, the lake, how two trees are growing off each other, etc before you climb to the top of the mountain passing all the many stone Buddha statues with red scarves. 5th graders can easily do the climb. Chinese food and snack can be bought inside but a packed lunch is preferred. The Great Wall section of Mutianyu is close by and can be combined – especially if you are a hiker.
Address: No.2 Hongluodong Road, Huairou District, Beijing 101400, China (70kms/43Miles)
Entrance fee: 54RMB
Open time:08:00-17:00
7. Fragrant Hills Park (香山公园)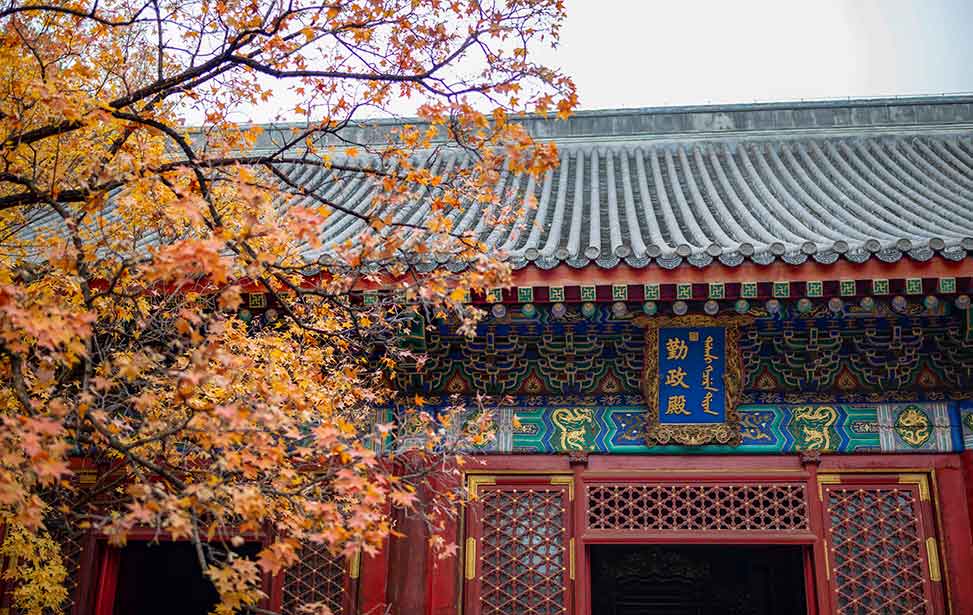 This is one of the best places to see red maple trees during the autumn season(super busy). But it is also a great place to visit at another season. You can get to the top of the hill (1-hour hike) to see the skyline of Beijing City.
Address: no.40 maimai street, Haidian District (32kms from Tiananmen square)
Entrance fee: 10RMB
Open time: 07:00-18:00
8. Longqing Gorge (龙庆峡)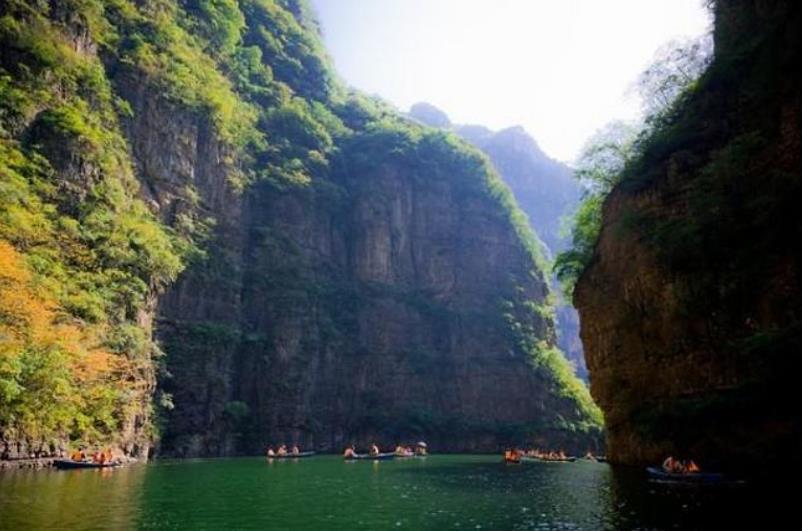 This place is good to combine with the Badaling Great Wall or other sights in summer. There is an ice festival in January and February each year. In my opinion, it is beautiful to visit in the summer since it is much cooler and than the city and winter ice carving festival.
Address: Gucheng Village, Beijing 102109, China (100kms/62miles)
Entrance fee: 40RMB. Boat: 100RMB.
9. Yinshan Pagoda Forest (银山塔林)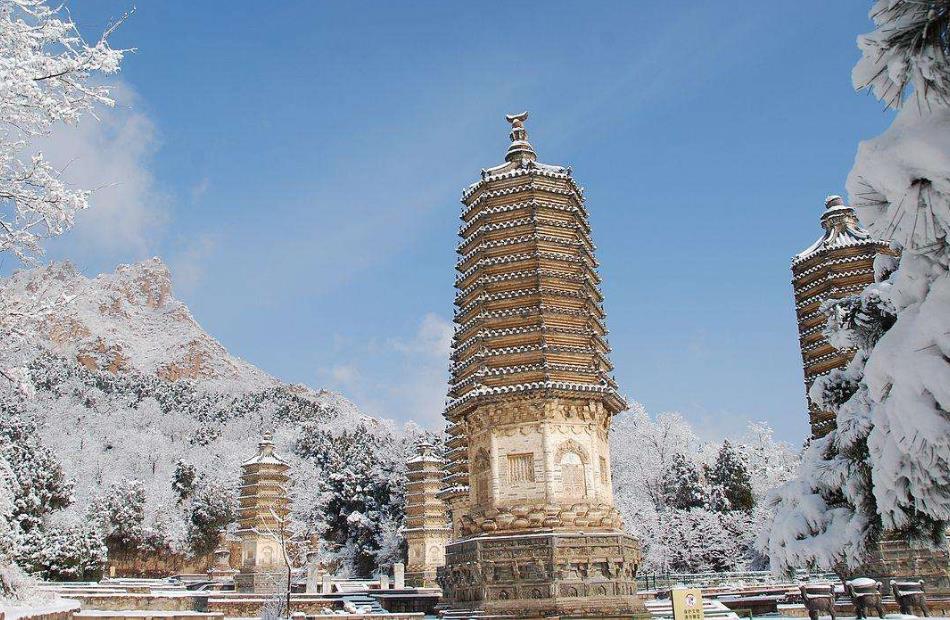 A nice place to visit in the summer, after you visit the nice silver pagoda you can climb in the forest to see waterfall till you get to the bell – the climbing is long with a lot of stairs, or to drive 15 minutes to great wall side lake, great location to see the wall get into the water.
Address: Xihu Village, Xingshou Town, Changping District, Beijing 102212, China (68kms/42miles from Tiananmen square)
Entrance fee: 40RMB.
Open time:08:00~17:00