Beijing is getting expensive. But strategies for visiting Beijing on a budget can save you quite a bit of money on lodging, dining, transportation, and attractions. My money-saving strategies start with your itinerary to Beijing and take you through a 3-days tour full of entertainment.  And the cost is only about $ 50.
Overview:
Day one: Beijing City Heritage 
Temple of Heaven, Tiananmen Square and The Forbidden City, Jinshan Park, Shichahai Lake, Wangfujing food market
Day two: Jinshanling Great Wall (by public bus)
Day Three: Beijing surroundings
Summer Palace, Lama Temple, Olympic Park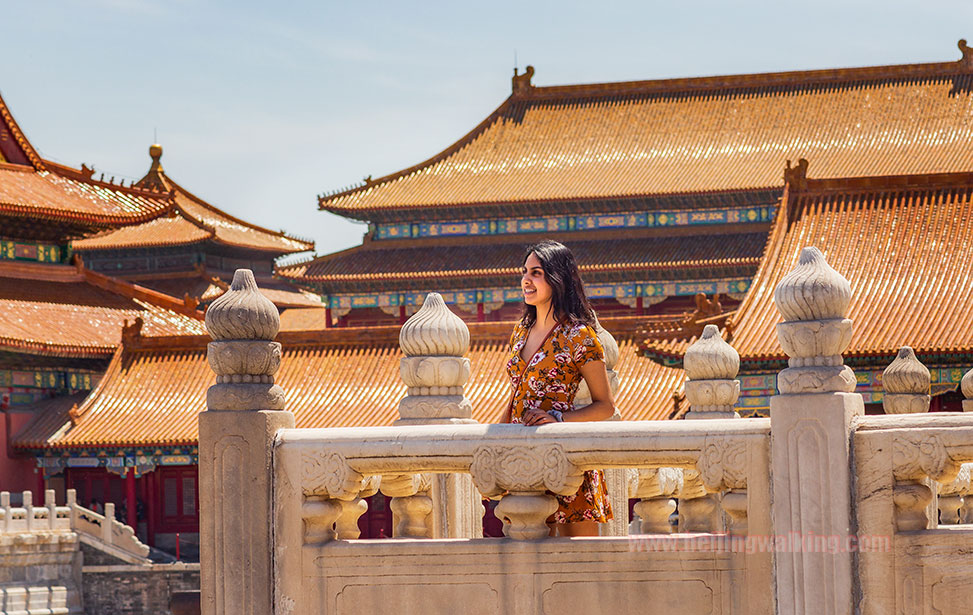 Day One:  Visit Beijing City Heritage 
It is better not to visit Tiananmen Square in the Morning, as there are 14 million tourists every year, almost everyone plan to visit here in the morning. Go to the Temple of Heaven first. The most beautiful building the hall for Good harvest opens at 8 am. So if you can get there about 7:30 am which is perfect.
Take subway line 5 to Tiantandongmen station, go out from exit A, you will get to the east gate of Temple of Heaven. (Entrance fee: 35 RMB pp) There are many locals doing morning exercise when you go inside the temple. It is a great place to walk and join some of the games if you like, locals are super friendly and willing to share.
Make sure you get to the Hall for Good harvest before 8 am, so you can take amazing photos here. If you go after, it is also not a problem, there always another way.
And you can go south to visit the Circular Mound Altar, go up to the Altar to feel the heaven center rock, you will hear a strong echo when you standing on the rock.
Walk back to the east gate of Temple of Heaven, take the subway to Qianmen station (line 2), go out from exit A, you will reach the Tiananmen square. It is an open square and free of charge, but there always a long queue for the security check. Make sure you bring your passport with you. If you want to visit Chairman Mao's mausoleum, you can't take the camera and backpacks with you. So it is better to visit her with a partner if you like to go.
The Forbidden City is on the north of Tiananmen Square. (10 minutes walk) It is not open on Monday and only allowed 80000 visitors daily. So make sure you book your tickets before you go, especially on a Chinese holiday.  You can get an audio guide at the south gate which cost you 40RMB with all kinds of languages options. The entrance fee for the Forbidden city is 40RMB. You can only go inside from the south gate and out from North and East gate. I suggest you go out from North Gate and spend 2 hours inside is good enough.
Go out the Forbidden City from the North Gate, you will find Jinshan Park right in front of you. It is a man-made hill, the material is the mud from the Forbidden City moat. This is a great place to see a birds-eye view of Beijing. Don't miss it if you still can walk.
The Houhai lake is only 10 minutes to the north of the Forbidden City, there are many nice local restaurants near there which is a great place to relax after the long walk. The famous Quanjude Beijing Duck restaurant is also by the lake.
In the evening, you can go to Wangfujing food market. It is inside the Wangfujing street and easy to find. The food here is mainly for tourists, sometimes a bit wired like spiders and scorpions.
The cost of the day: Entrance fee: 100RMB, transfer 20RMB. Total: 120RMB.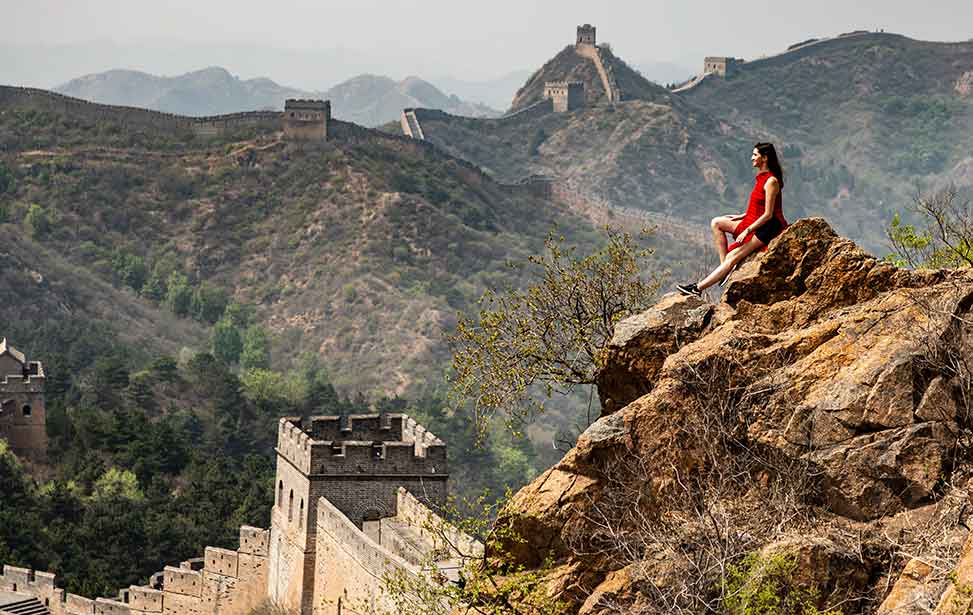 Day Two: Jinshanling Great Wall by public bus
Jinshanling Great Wall is a bit further from Beijing. Compare with other sections it is less busy and more beautiful. Rent a car to Jinshanling will cost you around 1000RMB. But the direct bus to Jinshanling is only 100RMB.
It starts at 8 am from Dongzhimen wai station. The price for the bus is 50RMB (one way).
For more detail on how to take the bus: Jinshanling by bus
The entrance fee is 65RMB. A hike from the main gate to the East Gate is a perfect way to visit the Great Wall.
The cost of the day: Entrance fee: 65RMB, Transfer: 110RMB. Total: 175RMB.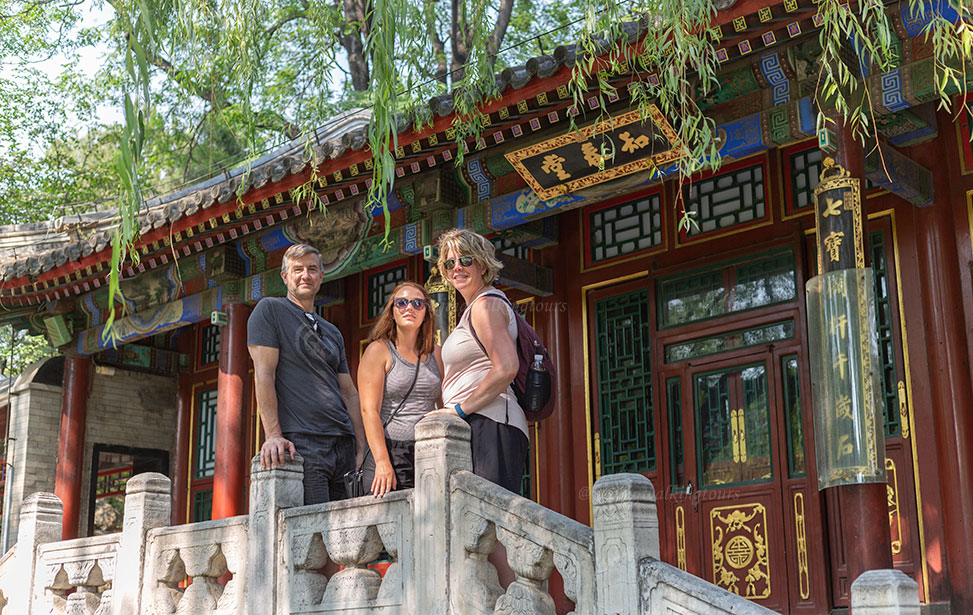 Day Three: Beijing surroundings
Summer Palace is one of the World Heritage sights in Beijing. Don't miss it if you have the time. It can be reached by subway line 4 to xiyuan station. Only 5 minutes walk to the east Palace gate. The Summer Palace is 4 times bigger than the Forbidden City, you can spend a whole day there, I recommend you spend 2 to 3 hours which can cover the highlights.
For more details: How to visit Summer Palace?
After the Summer Palace, you can take the subway to another place in the City, Lama Temple is a great choice. It is in the center of the city has beautiful architectures and amazing Buddhism cultural. A lot of locals go there daily to pray and burn incense.
After the Lama temple, you can visit the ghost street where is the most famous street for locals. Spicy crawfish is the one you should try.
The cost of the day, entrance fee 60RMB, transfer 20RMB.
Total: 375RMB. (Transfer and entrance fee)
Where to stay?
The best and budget hotel in Beijing