2019-11-10&nbsp&nbsp Leo Kui&nbsp&nbsp &nbsp&nbsp
0
This post is our forecast for December weather in Beijing, with tips on what to wear and things to do. Be sure to check out our post on things to do for Christmas in Beijing.
AVERAGE TEMPERATURES
Early in December, the weather can sometimes still be mild with afternoon high temperatures mostly in the upper 40's F (6-9 C) with 2-3 days likely reaching into the upper 40's F or even to the lower 50's f (about 10-13 C).
Morning lows during early December tend to be mostly in the mid to upper 30's f (0-2 C).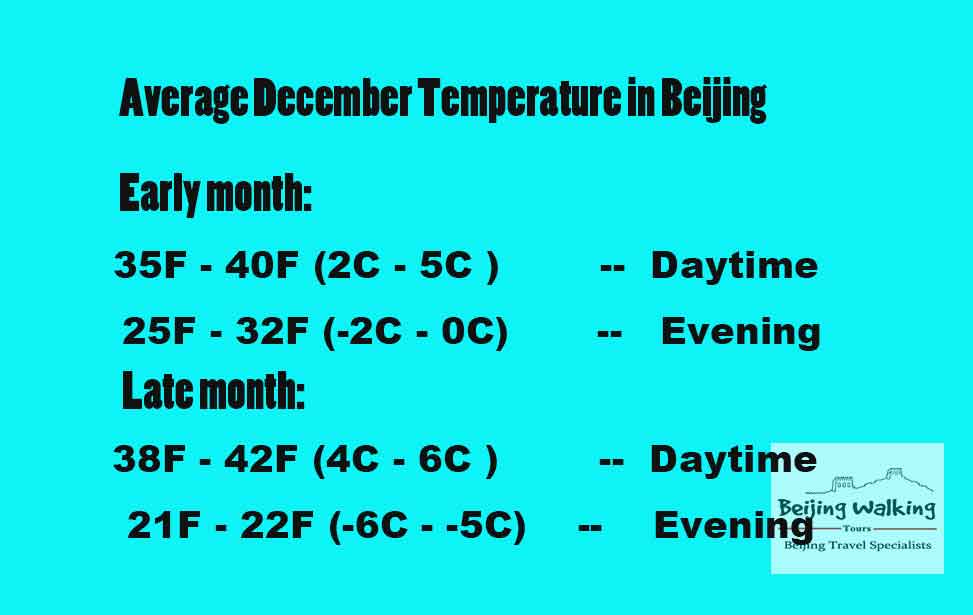 How Cold Is Beijing in December?
As the month progresses, the afternoon temperatures fall into the upper 40's f (5-8 C) while early morning lows dip into the upper 20's f (-3 to -6 C).
On a few of the colder nights and mornings, the temperature will dip down into the mid-teens (-9 to -10 C).
How much SUN, RAIN, AND SNOW?
There almost no rain in December, it may snow 1 or 2 times, but in general, it is super dry and sunny this month.  But it is also a bit windy, make it even cooler.
What to wear in December in Beijing?
A couple of heavy sweaters and at least one medium-weight jacket or coat may suffice during the early part of this month.
However, as the month progresses, more winter attire will be required, including a heavier jacket or coat with a warm hat and gloves. Warm boots may also be a good idea for any rain or snow days.
What to do in December?
TOP 10 THINGS TO DO IN DECEMBER
There are more things to do in December than we can list here, so be sure to contact us for more information or customize a private tour for your stay.
Tiananmen Square and the Forbidden City
Temple of Heaven
Summer Palace
Walk around Beijing Hutongs
Enjoy the sunset view from Jinshan Park
Lama Temple
Visit the 798 art district
Hongqiao Market for survivors
Eat Peking duck
There Are Some Special Things To Do In This Month:
Ski at Nanshan ski resort
Enjoy a private hot spring after the Great Wall
Have Christmas part at Happy Valley
(http://bj.happyvalley.cn/Aindex.shtml)