2019-11-13&nbsp&nbsp Leo Kui&nbsp&nbsp &nbsp&nbsp
0
This post summaries the January weather in Beijing as well as the Great Wall of China, with tips on what to wear as well as things to do.
HOW COLD IS NYC IN JANUARY?
Well, it's mostly winter-like with daily afternoon high temperatures mostly in the lower 30's f to near 40 f (0-3 c), however, 2-3 days will still likely produce highs reaching into the low to mid-40's f (6-8 c).
Overnight and early morning low temperatures tend to be in the mid to 10's f to mid 20's f(- 15to -5 c).
However, a few of the colder mornings will likely see temperatures dipping down into the mid to lower teens (-9 to -12 c).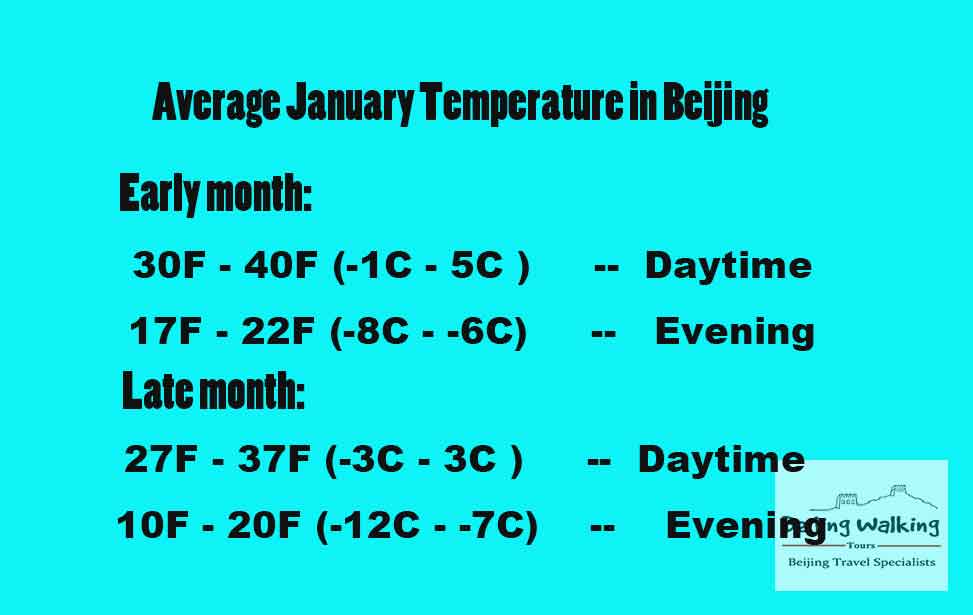 HOW MUCH SUN AND SNOW?
Though January is typically the coldest month of the year in Beijing, there are usually a number of sunny days. It can be snow at any time of the month. But Beijing is quite dry, it only snows 1 or 2 times each year for the last few years. But it is very windy make it even cold than the temperature shows, make sure you dress warmly when you travel to Beijing. The Great Wall is higher in the mountains, it gets more snow than the city.
Tip: It is dangerous to do a Great Wall, check the weather forecast before you go.
Of the snow days, about 2 days this month normally see snowfalls of 1 inch (2.5 cm) or more with 1 day receiving 3 inches (7.6 cm) or more.
What to Wear in Beijing in January
Winter in Beijing requires at least one warm winter jacket or coat along with a warm hat and some gloves. Warm boots are also a good idea for any rain or snow days.
Ladies, when visiting Beijing in the winter, a coat or jacket is a must, as well as a scarf, gloves, and a hat.
If you plan on being outdoors sightseeing, a waterproof jacket will go a long way in keeping you dry in case of snow conditions.
What To Do In January?
TOP 10 THINGS TO DO IN JANUARY
There are more things to do in December than we can list here, so be sure to contact us for more information or customize a private tour for your stay.
Tiananmen Square and the Forbidden City
Temple of Heaven
Summer Palace
Walk around Beijing Hutongs
Enjoy the sunset view from Jinshan Park
Lama Temple
Visit the 798 art district
Hongqiao Market for survivors
Eat Peking duck
There Are Some Special Things To Do In This Month:
The late January is the Chinese spring festival season.  It is different each year. Check out what to do in Beijing during the Chinese new year.
Ski at Nanshan ski resort
Enjoy a private hot spring after the Great Wall