Beijing is one of the oldest cities in China, except for the world heritage sights, the Hutong (胡同) is the best place to see the local life. With their unique spatial structure that bridges the past and present, hutongs underline the historical element for city development in China and become an important carrier of Chinese culture.
Interesting Facts of Beijing Hutong
What does hutong mean?
Hutong in Chinese: 胡同.
There are several theories about the origin of the word "胡同"(hutong). The one I believe most is the transliteration of the word "well" in Mongolian. China used to be conquered by Kublai Khan who is the grandson of Genghis Khan.  When they move to China, they choose Beijing as the capital. It may be because Beijing is near their hometown, if they didn't rule this country well, they can run away from China. Anyway, a lot of Mongolians move to Beijing and stay here. Mongolians are Nomads who always move to look for food especially fresh grass for their sheep. So water became very important to them, where ever they move to, they need to find water and dig a water well first. So after they move to Beijing, a lot of water wells were dug outside their house which became landmarks for the city. So people name the street hutong after that. But the traditional house which is united with a hutong street people calls it "SIHEYUAN" which means Quadrangle dwellings.
How many hutongs exist in Beijing? Who owns the hutongs?
In 1980, there were about 4000 Hutongs left in Beijing. More and more hutongs were destroyed during the last 40 years of Chinese economic reform. There are about half of them still exist and under the protection of the local government. The locals who lived here, own the hutong, but they don't have the right to change it.
Actually, a lot of young people are willing to move out of the hutong. Why?
The Quadrangle dwellings are designed well for a rich family to live, but as the improving of Beijing as the capital. More and more people moved to Beijing. Before the economic reform, everyone was asked to be equal, so the government shares the hutongs with all the citizens who live in the City. In 1950th, Beijing only had 2 million people, but it is over 22 million today. The hutong became very crowded and narrow for modern life.
What's the difference between Hutong and siheyuan?
Siheyuan refers to a courtyard surrounded by buildings on all four sides. It means the individual building. Go out from Siheyuan, the streets are the Hutongs.
2 Hutong museums in Beijing very interesting to visit
Top 10 Best Hutong to visit in Bejing
Nanluoguxiang
Nanluoguxiang was built in the Yuan Dynasty and received its current name during the Qing Dynasty, around 1750. In recent years, the area's hutongs have become a popular tourist destination with restaurants, bars, live music houses, coffee shops, fast food, and souvenir shops, as well as some old siheyuan associated with famous historic and literary figures.
Name: 南锣鼓巷
Surroundings: Drum and bell tower, Shichahai lake, Jingshan Park
Subway: Line 6 and line 8 to Nanluoguxiang subway station
Wudaoying Hutong
This alley is at the moment still much lesser known than the popular/famous ones, hence much less crowded even on the weekends.
Name: 五道营胡同
Surroundings: lama temple, confusion temple
Subway: line 2 and line 5 Yonghegong lama temple station
Qianmen street
It is just in front of Tiananmen Square. Qianmen is the oldest business district in Beijing. It is still with many age horner shops and restaurants.
Name: 前门大街
Surroundings: Tiananmen Square, Beijing railway museum
Subway: Line 2 to Qianmen station.
Guozijian Hutong
The Beijing Guozijian (Imperial College), dating to 1306, and the Temple of Confucius, built-in 1302, are located in this street. The Yonghe Temple is located next to its east entrance.
Name:国子监街
Surroundings: Lama temple, confusion temple
Subway: line 2 and line 5 Yonghegong lama temple station
Tobacco Pouch Street
Know as Yandai Xiejie in Chinese, the Skewed Tobacco Pouch Street is one of the oldest hutongs, which are famous attractions in Beijing. It is 232 meters long with its east end on Di'anmen Street and the west to the Silver Ingot Bridge.
Name: 烟袋斜街
Surroundings: Drum and bell tower
Subway: line 8 to shichahai station
The Hutong who has 9 right angle turns: Jiuwan Hutong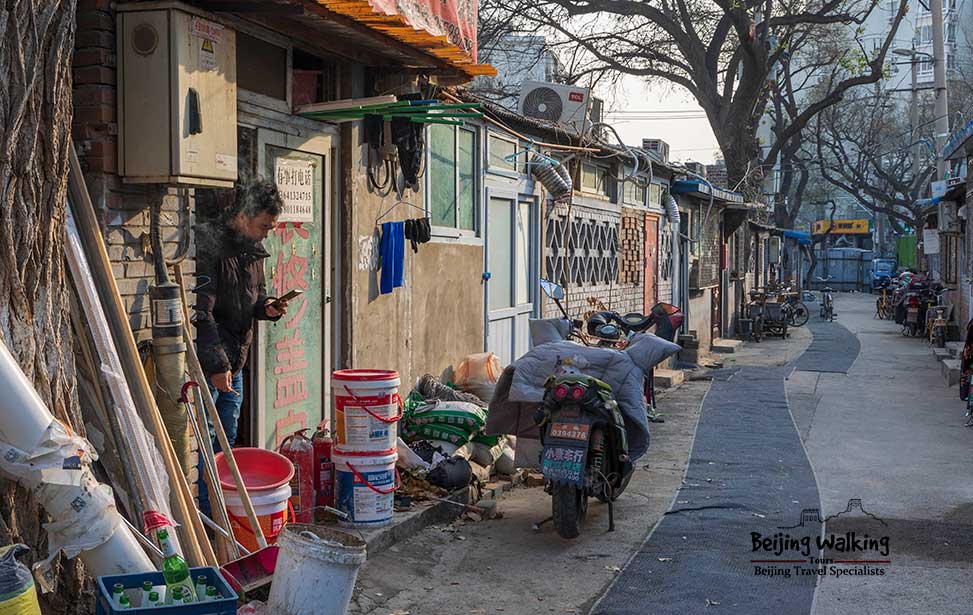 Juwan hutong is located near the Zhushikou subway station. It is the area for poor people who lives in the old days. And today it is a place not well developed which helps you to know more of the local life. Some of the Hutong hutongs are only 40 cm wide. The road is not enough for a bike to go through.
Name: 九弯胡同
Surroundings: Temple of Heaven
Subway: line 7 to zhushikou station
8. The longest: Dongjiaominxiang Hutong 东郊民巷 (1552 meters)
There are a lot of historic sites and former embassies, as it is the government offices, it is not popular with tourists. If you would like to see the old embassies and the government buildings today, it is a great place to visit.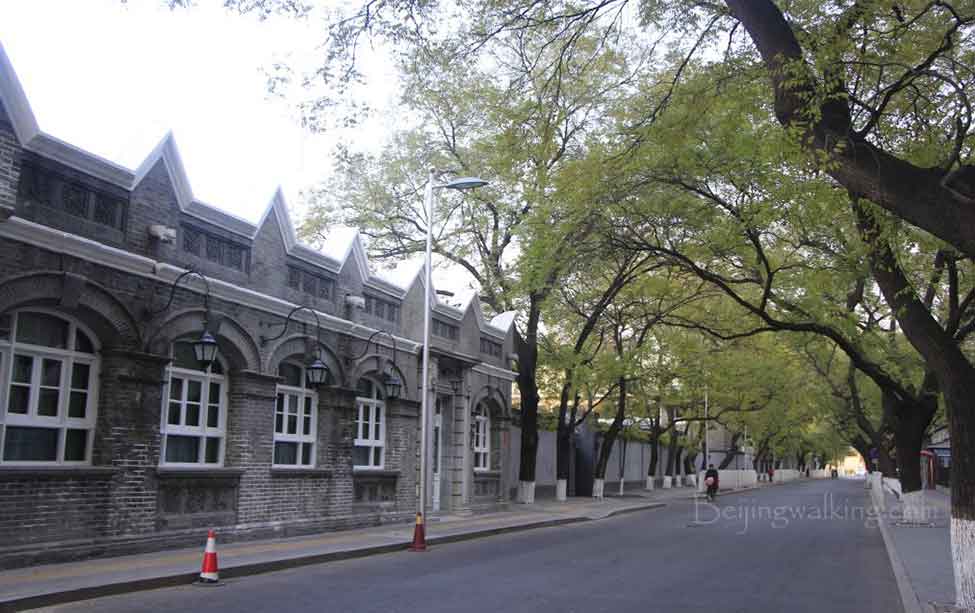 9. The shortest:  Yichi Dajie  一尺大街(25 meters)
This hutong is between qianmen street and liuli chang east street, it is only 25 meters. There are many nice hutongs around here, such as the famous Bada hutong (八大胡同). The bada hutong is an area of 8 hutongs that was full of whore houses in the old days. The buildings are very nice, a good place to walk. There are a lot of hutongs with 2 floors which tells us it was the business center of the old capital.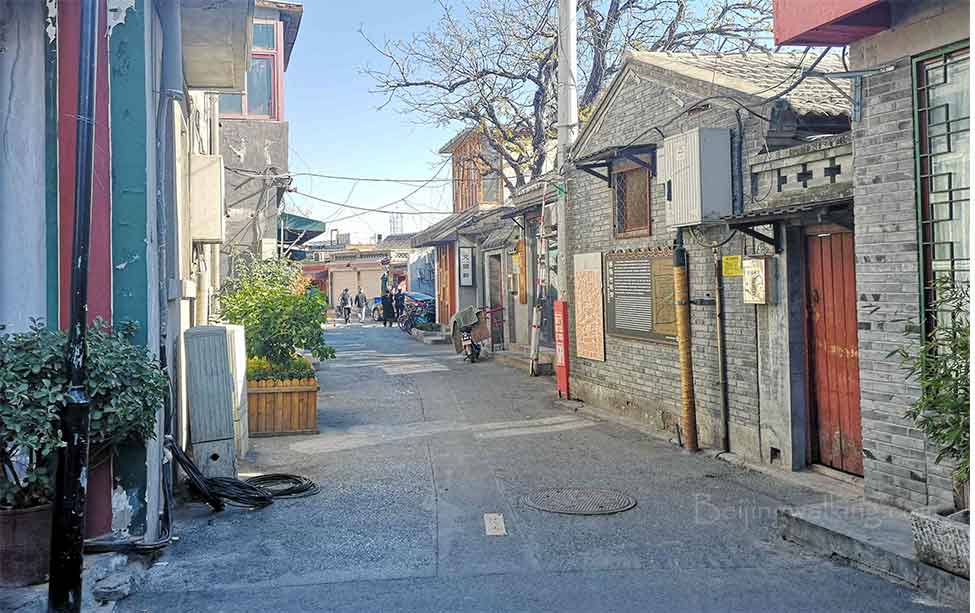 10. The oldest: Zhuanta Hutong 砖塔胡同 800 years old
Near xisi subway station, it is the oldest hutong. There live the locals only, with a beautiful pagoda, inside the pagoda, there is a book store, you can have a drink inside, like the time go back to hundreds of years ago.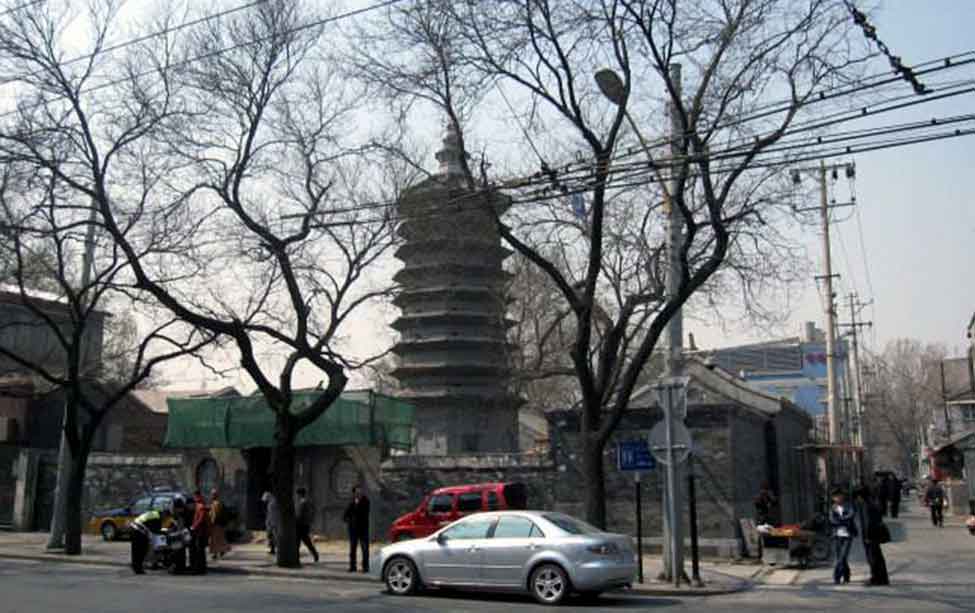 Recommend Hutong walking rote:
1.Shichahai area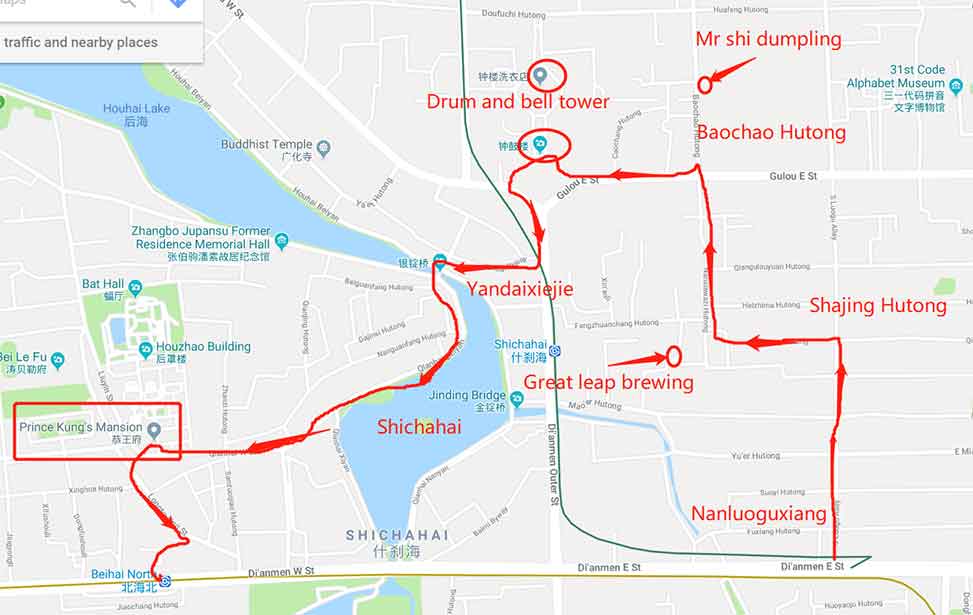 This is the most classic route to make the hutong walk. Start from Nanluoguxiang, turn to the left to avoid the crowded tourist, then you will walk into the Hutongs where the locals live and work. You can then walk to Drum and Belltower, Houhai, visit Prince Kung's Mansion at the end. It is about 3 hours walking, you can stop at Shichahai eat and rest, then it will be a perfect half-day Hutong trip.
2. Qianmen Area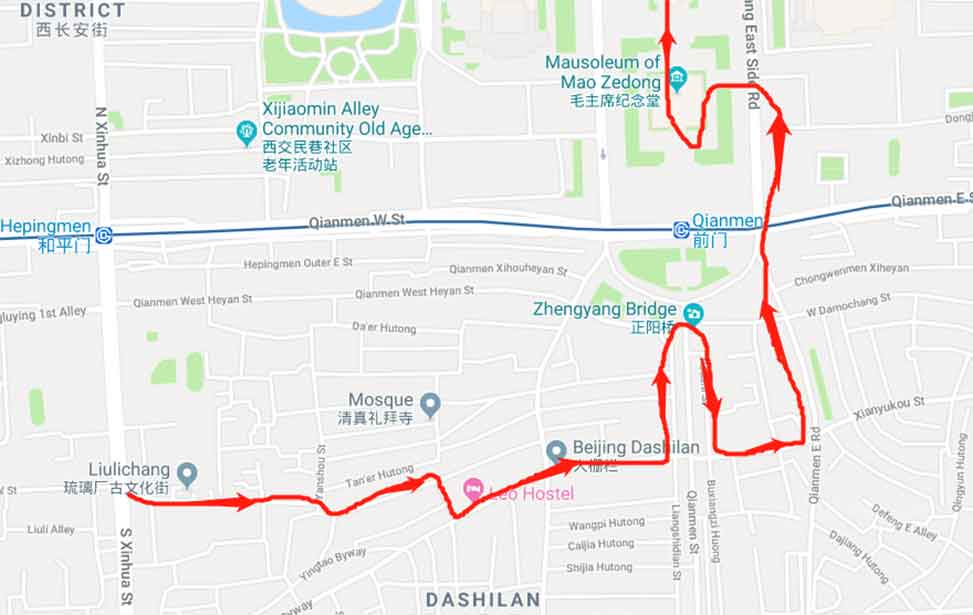 This Area is good to combine with Tiananmen Square and the Forbidden City.
You can start from Liiulichang street, you will find a lot of Chinese elements with paintings and calligraphers. Then walk to Dashilan which is the business center for Beijing for the last 600 years, there are many traditional Chinese shops there. You can visit the Food Street at the Xianyukou Hutong. Then about 10 minute's walk to Tiananmen Square.
Feel free to leave me a message with any of your questions or suggestion, I will help you make your trip better!